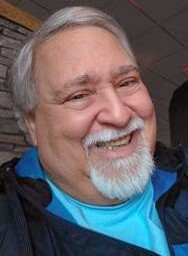 William J. "Bill" Cahill JR – 66 – of 43 Stephens Ave., Hornell, died unexpectedly Thursday morning (October 28, 2021) at his home.
Born in Queens, NY on December 18, 1954, he was the son of William & Jessica (Parisi) Cahill.
Bill grew up in Queens and attended high school in Far Rockaway, NY.  He resided on Long Island for several years and had been employed as a "Coin Grader" for Numismatic Funding Company (NFC) of Long Island.  He remained an avid coin collector throughout his lifetime.
For about 8 years, Bill lived in Addison and was self-employed as a VCR repairman and also self-employed as a skilled woodworker.  He has resided in Hornell for the past 23 years.
Bill had been a member of the Living Waters Church of Hornell and also the Consuming Fire Church of Canaseraga and thoroughly enjoyed studying the Bible.  He loved spending time in the kitchen and was an exceptional cook.  Some of his "specialties" included Eggplant Parmesan and Chicken Cordon Bleu.  He also enjoyed taking long drives to Letchworth State Park with his family and drives in the countryside with his wife, Ruth.
In addition to his parents, he was preceded in death by his sister, Carmella Cahill.
He was married on April 3rd, 1982 to the former Ruth Apoian who survives.  Also surviving are his children, William J. "Will" (Kim) Cahill III of Richmond, VA, Carol Jessica Rose Cahill of Hornell and Christopher Glen Patrick Cahill of Hornell; several nieces & nephews.
Bill had no grandchildren, but he had several "Grandcats": (former) Booker, Peanut and Juju Rocco, Paulie and Zoe (surviving) along with a Grand-Pup named Buddy.   He used to love Buddy's dopey ears and the way Zoe's Big head didn't match her tiny body.  Not much of a cat lover, but in the end, the cuteness began to grow on him.
Daddy- Dad was a very funny, fun loving man. He was known by his family for being a fun loving jokester and spirited debates would often happen about who else had the Cahill sense of Humor – (Carol)
He loved big! His faith held Pastor Bill together at some of the most difficult times in his life and carried him throughout his last breath. He wanted the best for his family and cherished every moment. He will be greatly missed, but we look forward to the day we will see him again. Forever in our Hearts – His little Princess and Little Girl.
At Bill's request there will be no calling hours.  A Memorial Service will be held on Saturday, November 20, 2021 at 2:00 PM at the Living Waters Church in Hornell with Pastor Philip Casterline officiating.
Funeral arrangements are in care of the Dagon Funeral Home, 38 Church St., Hornell, NY.
Bill's family request that in lieu of flowers, memorial contributions in his name be made to St. Jude Children's Hospital, 501 St. Jude Place , Memphis, TN  38105.