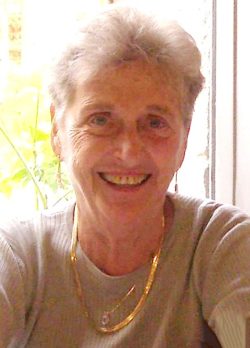 Joan P. Price, widow of Dr. Alfred R. Price, died at St. James Mercy Hospital in Hornell, NY, Jan. 1, 2022, of complications from the Covid virus. She was 95.
She was born in 1926 in Philadelphia, Pa., the eldest daughter of Harry and Edna Pauline.
After graduating from high school, Joan enrolled in the School of Nursing at Pennsylvania Hospital, where she earned her RN degree. She subsequently became a surgical/head nurse at Pennsylvania Hospital, where she eventually met Alfred R. "Bob" Price, a young intern from the University of Pennsylvania Medical School. They were married in 1953, while Dr. Price was finishing a stint with the U.S. Navy, and during this period, Joan volunteered as a nurse in Baltimore, MD, providing medical and nursing support through the polio epidemic. Following her husband's Navy service, she and Dr. Price settled in Rosslyn Farms, a suburb of Pittsburgh, where they raised their son, Alfred R. "Rob" Price, Jr.
As a former nurse, Joan developed a keen interest in nursing facilities in the Pittsburgh area. A lifelong Episcopalian, she joined the Board of Trustees of the Episcopal Church Home, and assisted in the development and construction of its affiliate, Canterbury Place, which became part of the University of Pittsburgh Medical Center system. She served as chairperson of the Canterbury Place Board of Trustees as well as a member of the UPMC Board. She also served on the Board of Trustees of the Visiting Nurse Association.
Joan was a passionate political organizer also, and played instrumental roles in numerous campaigns at the local and state levels. She volunteered additionally in the 1978 and 1982 gubernatorial campaigns of the late Pennsylvania Governor Richard Thornburgh, as well as Thornburgh's 1991 campaign for the U.S. Senate. Joan also assisted in the election of her brother-in-law, the late Hon. Gwilym A. Price, Jr., to the Allegheny County Court of Common Pleas and the Pennsylvania Superior Court.
For fun, Joan enjoyed vacations at her family's cabin in northern Ontario, traveling in Europe, and jitterbugging. In 2003, she and her husband moved from Pittsburgh to a retirement community in Chambersburg, Pa., where they relaxed together through the final years of their 68-year marriage.
She is survived by her son and daughter-in-law, Rob Price and Susan Morehouse, of Hornell, NY; her beloved granddaughter, Lora Price of Richmond, VA., and many nieces, nephews, grandnieces and grandnephews.
In addition to her husband, she was predeceased by her mother and father, as well as her sisters, Patricia Pauline and Judith Strayer, and her brother, Harry Pauline.
Due to health risks associated with the Covid virus, a private funeral service will be held at Christ Episcopal Church, Hornell.
Arrangements are entrusted to the Dagon Funeral Home, 38 Church St., Hornell, NY.
Letters of condolences may be mailed to Alfred R. Price, Jr., 106 Chaddock Ave., Hornell, NY 14843.  Donations may be made to the Menno Haven Benevolent Fund, 2011 Scotland Ave., Chambersburg, PA 17201 (development@mennohaven.org).