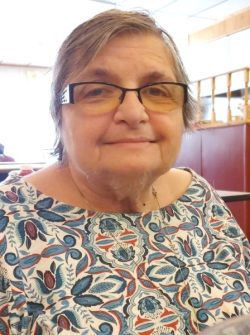 Doris J. Congdon – (79) – of 69 Bennett St., Hornell, passed away  Wednesday afternoon (January 26, 2022) at her home with family around her, following a Long illness.
Born in Canisteo, NY on December 8, 1942, she was the daughter of William & Mary (Deason) Whalen.
Doris grew up in Hornell and was a graduate of Hornell High School (class of 1962).  While in high school, she was employed in the dietary & housekeeping departments of St. James Mercy Hospital.
Following her high school graduation, Doris worked at Loohn's Cleaners for about one year and later for Gunlock Corporation in Wayland for about one year.  Returning to St. James in the early 1970s, she worked in the laundry and central supply departments for the next 34 ½ years, retiring in 2005.
Doris was a member of the Hornell Association, the Loyal Order of the Moose and the AMVETS.  She was a Buffalo Bills Football fan and enjoyed rooting for the New York Yankees.
She was married on April 27, 1964 to Charles "Chuck" Congdon who died October 20, 2008.  Doris was also preceded in death by her grandson, Jamie Travis who died May 20, 2020; 2 brothers, William Whalen and Gerald Whalen; 1 sister, Rachael Stevens.
Surviving are 2 sons, Charles (Colleen) Congdon of Canandaigua, NY and Gerald (Petra) Congdon of Middlesex, NY; 1 daughter, Karen (Jimbo) Travis of Hornell; 1 sister, Patricia Harwood of Hornell; 5 grandchildren, Zachery Congdon, Marissa Congdon, Michael Schultz, Stanley Schultz and Mari-Margaret Travis; 1 great-granddaughter, Emma  Cancilla, Princes Charles J'erome Schultz; several nieces & nephews.
The family of Doris J. Congdon will receive friends on Thursday from 11:00 AM  –  1:00 PM at the Dagon Funeral Home, 38 Church St., Hornell, NY.  Funeral & committal services will be held at the conclusion of calling hours at 1:00 PM with Deacon Robert McCormick officiating.  Burial will be in St. Mary's Cemetery.
Doris' family request that in lieu of flowers, memorial contributions in her name be made to the Alzheimer's Association, 435 East Henrietta Road,          Rochester, NY  14620 or by visiting www.alz.org.  Memorial forms will be available at the Dagon Funeral Home.