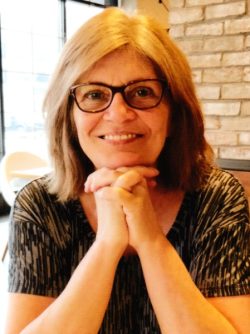 Linda M. Stearns – 62 – of 14 Brush St., Arkport, died early Wednesday morning (February 16, 2022) at her home, following a long illness.
Born in Tonawanda, NY on April 11, 1959, she was the daughter of Peter & Evelyn (Derner) Dragich.
Linda grew up in the Buffalo, NY area and was a graduate of Kenmore East High School (class of 1977).  While living in the Buffalo area, she had been employed as Office Manager for SSI Corporation and later for Trident Mechanical Corporation.
She moved to the Arkport area in 2010 and had been employed at Cy's SureFine Grocery in Arkport and also served as a "Price Checker" for Wal-Mart Corporation.
Linda was a member of the Arkport American Legion.  She had a deep affection for animals, especially dogs & cats, and throughout the years spent countless hours helping family & friends search for their "runaway" pets that had wandered off.
She was preceded in death by her parents, Peter & Evelyn Dragich.
Linda was married on July 4, 2008 to William "Bill" Stearns who survives.  Also surviving are her daughter, Jennifer (Jason) Haggar of Louisville, CO; 4 step-sons, Jeffery (Donna) Stearns of Sorrento, FL, Shawn Stearns of Eustis, FL, James (Sara) Stearns of Eustis, FL and Alex (Jackie) Stearns of Arkport; 3 brothers, Dennis (Gail) Dragich of Bemis Point, NY, Pete Dragich of Lakeview, NY and Mike (Marti) Dragich of Knoxville, TN; 1 granddaughter, Ellen Haggar; several step-grandchildren, nieces & nephews.
At Linda's request there will be no calling hours.  Private services will be held at the convenience of the family.
Funeral arrangements are in care of the Dagon Funeral Home, 38 Church St., Hornell, NY.
Linda's family request that in lieu of flowers, memorial contributions in her name be made to the Hornell Humane Society, 7649 Industrial Park Road, Hornell, NY  14843.