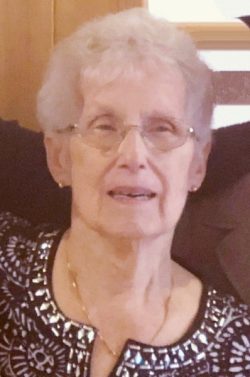 Mary E. Bossard – 86 – of 7685 Reservoir Road, Hornell, NY (Town of Fremont) died peacefully Saturday morning (March 26, 2022) at her home after a brief illness.
Born in Hornell on December 17, 1935, she was the daughter of Joseph & Pauline (Renwand) Dixon, and step-daughter of Nealon White.
Mary grew up in Hornell and attended Hornell High School.  She had been employed for a time as a sales associate at JC Penney of Hornell and also as an aid in the Physical Therapy Department of St. James Mercy Hospital.  However, Mary was most proud of her lifelong job as a homemaker, raising and caring for her family.
In her younger years (along with her husband, Glen) Mary enjoyed snowmobiling, 3-wheeling, gardening, and other outdoor pursuits.  Together, they made frequent trips to favorite vacation stops in Niagara Falls, the Adirondacks, and to Amish Country in Pennsylvania and Ohio. They also loved rooting for the Buffalo Bills and New York Yankees.  Mary enjoyed playing poker & euchre with her friends and was a member of a local card club.  She thoroughly enjoyed spending time in the kitchen, cooking & baking—especially delicious pies, zucchini & banana bread, and a variety of cookies.
Mary was married on January 25, 1953 to Glen A. Bossard who died January 7, 2016.  She was also preceded in death by her son, Steven "Boz" Bossard (died 2002); her daughter, Catherine "Cathy" Bossard (died 2006); her daughter-in-law, Julie Bossard; her step-sister, Linda Warczok; 2 brothers-in-law, Dick Curran and Stanley Shepard; and her niece, Chrissy (Curran) McDaniel.
Surviving are her daughter, Barbara "Barb" (Ron) Hilsdorf of Fremont; 2 sons, Richard "Dick" (Nancy) Bossard of Almond and Brett (Kerry) Bossard of Ithaca; 2 sisters, Joanne Curran of Hornell and Jean Shepard of Hornell; 1 step-brother, Bill White; 8 grandchildren; 9 great-grandchildren; several nieces & nephews.
The family of Mary E. Bossard will receive friends on Friday, April 1 from 4:00 PM – 6:00 PM at the Dagon Funeral Home, 38 Church St., Hornell, NY.  A private ceremony will occur at the family's convenience.  Burial will be in Rural Cemetery, Hornell.
Mary's family request that in lieu of flowers, memorial contributions in her name be made to the Cathy Bossard Scholarship Fund, c/o HHS Alumni Association, PO Box 135, Hornell, NY  14843.  Memorial forms will be available at the Dagon Funeral Home.