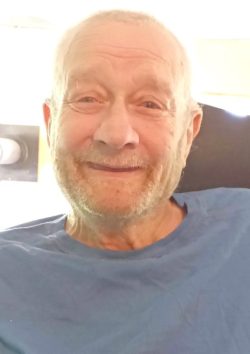 Hornell, New York
Harold H. "Cookie" Loper – 74 – of 7748 Old Big Creek Road, Hornell (Town of Fremont) died Wednesday afternoon (July 20, 2022) at Strong Memorial Hospital in Rochester, following a long illness.
A native & lifelong resident of the Hornell area, he was born December 31, 1947, and was the son of Harold & Thelma (Young) Loper.
A self-proclaimed "Work-A-Holic", Cookie left school at an early age and throughout the years worked many jobs.  He served as a route & deliver driver for the Hornell Evening Tribune; a driver & delivery man for Canada Dry; cut & pruned trees for the electric company (NYSEG); and for many years owned & operated Loper's Hauling & Tree Service where "No Job Too Big or Too Small."
He loved spending time outdoors pruning & cutting trees and was the proud owner of many Husqvarna Chain Saws.  Even after losing his leg to diabetes, Cookie continued operating his tree service.  It was only after diabetes took his other leg that he was finally forced to retire.
Cookie was a longtime member of the Hornell Eagles Club.  He loved spending time watching TV, especially old Western movies and Western TV Shows.  His favorite was "The Rifleman."
In addition to his parents, Cookie was preceded in death by his infant daughter, Tammy Sue Loper; his 2 longtime companions, Jacqueline "Jackie" Howard and Patricia "Pat" Burleson.
Surviving are 3 sons, Harold (Alison Tweed) Loper III of Hornell, Jason (April) Loper of Hornell and Jeffrey Loper of Hornell; 3 daughters, Shelly Wilson of Dansville, Angela (Jeffrey) Hatch of West Edmenston, NY and Tracy (Sharneatra) Lopez of Florida; 2 brothers, Kenneth Loper of Bath and Robert (Doris) Loper of Texas; his grandchildren, Ashley Hatch, Dylon Loper, Hannah Robinson, Anthony Loper, Allison Robinson, Alexa Loper, Ace Loper, Kaydi Loper, Andrew Falco, Madison Stever, Charlee Stever and Logan English; 2 great-grandchildren, Stella Loper and Hazel Whitsell; several nieces & nephews.
The family of Harold H. "Cookie" Loper will receive friends on Saturday, (August 6, 2022) from 4:00 PM  –  6:00 PM at the Dagon Funeral Home, 38 Church St., Hornell, NY.  A funeral service will be held at the conclusion of calling hours at 6:00 PM with Deacon Robert McCormick officiating.  Burial will be in Hillside Cemetery, Canisteo, NY.
Cookie's family request that in lieu of flowers, memorial contributions in his name be made to either the American  Diabetes Association, PO Box 13067, Alexandria, VA   22312 or the American Heart Association, PO Box 3049Syracuse, NY  13220.  Memorial forms will be available at the Dagon Funeral Home.
To leave an online condolence or share a memory, visit www.dagonfuneralhome.com