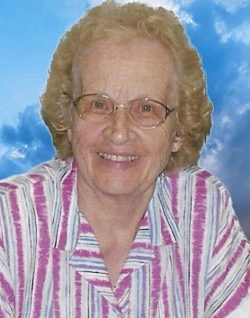 Dorothy Anna Housworth, 90, loving mother, grandmother, and great grandmother died peacefully at home on February 18, 2023, after a long illness.
Born August 3, 1932, in Easton, PA, she was the daughter of Charles Arthur and Helen (Schaible) Ridge.  Dorothy grew up in Erwinna, PA attending the one-room Erwinna Schoolhouse and then graduating from Frenchtown High School, Class of 1950.  She had many happy memories of her childhood and the lifelong friendships she made.
On August 3, 1951, Dorothy was baptized in the Guyandotte River at Marianna, West Virginia while visiting her Aunt Alma.  She faithfully read her Bible each night and enjoyed the old-time hymns of her childhood.
She was married on August 29, 1952 to George Housworth.  They purchased land on Chestnut Ridge Road in Upper Black Eddy, PA where they built their home and raised their two sons.
In 1972, Dorothy began driving bus for the Palisades School District.  It was a job she loved, and she drove two generations of children to school safely for many years.
Dorothy was a kind, generous, and fun-loving woman who enjoyed many activities.  First, she loved spending time with her family.  Dorothy did her best to attend any activity in which her grandsons were involved.  She enjoyed going for rides, going to the shore, and playing pinnacle with the family.  Dorothy especially enjoyed going to the races, where she was the number one fan of her son Jim and later her grandson Jimmy.
In addition to her parents, Dorothy was preceded in death by her husband George; her two brothers, Gene and Jim Ridge; her sister, Betty Pagano; many much loved aunts and uncles; and recently her sister-in-law Marianne Schaible.
She is survived by and will be greatly missed by her two sons, George Housworth JR and Jim (Pat) Housworth; her five grandsons, James L. Housworth, James E. (Stacy) Housworth, Zachary (Ally) Housworth, Chad (Jess) Housworth, and Alex (Kristen) Housworth; and her great grandchildren Joseph Housworth and Adaline Housworth.  Also surviving are her two sisters, Sonja Mitchell and Cindy Cagle; her brother, Edwin Ridge; nieces, nephews, and many dear friends.
At Dorothy's request there will be no calling hours.  Private services will be held at the convenience of the family with burial in Upper Tinicum Cemetery in Upper Black Eddy, PA with her husband.
Funeral arrangements are in care of the Dagon Funeral Home, 38 Church St., Hornell, NY.
To leave an online condolence or share a memory, visit www.dagonfuneralhome.com