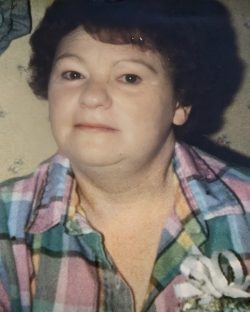 Hornell / Canisteo / Arkport
Marjorie E. "Marge" McDaniel – 76 – of Hornell, formerly of Arkport & Canisteo, died unexpectedly late Friday evening (March 10, 2023) at St. James Hospital.
Born in North Hornell on June 17, 1946, she was the daughter of Lester & Delores (Manhart) Wing.
Marge grew up in Burns, NY and attended Arkport Central School. Throughout the years she lived in Burns, Arkport, and Canisteo. She had been employed for several years at Westinghouse Corporation in Bath and for 21 years worked in the Custodial Department at Alfred University, retiring about 12 years ago. Along with her husband, Larry, Marge delivered The Evening Tribune to many people throughout the Canisteo Valley for several years. Following her "retirement" Marge returned to the workforce and for about 4 years was employed in the cafeteria at Arkport Central School and for ProAction serving food to youth in the summer through the Summer Food Program.
She was a former member of the Burns Community Church and later the Canisteo Methodist Church. Marge had also been a member of the former Hornell Eagles Club. She loved playing bingo throughout her entire live and could be found at any of the many bingo games formerly found throughout Hornell, with a younger "Ricky" in-tow. Marge also bowled on many bowling leagues over her lifetime but in her later years, she especially loved bowling with the ladies on the Wednesday Woman's League at Maple City Bowl.
Marge was known for being a "spitfire" – most always saying what she thought, appropriate or not, especially if it would make someone laugh. She was frequently known to say things "incorrectly" which lovingly became known as "Marge-isms".
She was a devoted momma to her two Bichon puppies and was rarely seen without them. Dixie and DeeDee unfortunately proceeded her in death. All her grandchildren and great grandchildren in one way or another held a very special place in her heart which was evident to anyone that saw her eyes light up when one of them walked into the room.
Marge was married on January 6, 1973, to Larry McDaniel who died August 17, 2009. She was also preceded in death by her father and mother, Lester and Deloris (Manhart) Wing, her daughter and son-in-law, Rhonda (Aultman) and Dana Sawczyszyn; 2 sisters, Elizabeth "Liz" Holbrook and Rosemary "Rose" Burley.
Surviving are her children, Richard "Rick" (Polly) McDaniel of Canisteo, Tammy (Steve) Rauber of Burns, as well as her stepchildren, Bonnie (Tim) Smith of Cameron, Peggy (Gale) Miles of Canisteo, Lori O'Konski of Hornell, Chip McDaniel of Rochester and Bob (Linda) Houghtaling of Hornell, her grandchildren Allison McDaniel, Tyler Fay, Courtney (Stephen) Hierl, Randi Fay, Mackenzie (Corey) Towner, Dawson (Leighann) McDaniel, Jacob Fay, Sarah (Jason) Platt, Katie O'Rouke, Stephanie Rauber, Zack Rauber, Jennifer (Ronnie) Hendrick, Rebecca Smith, Thomas (Sarah) Smith, Kris (Lynn) Miles, Kelly (Jason) Woodworth, Michael (Nikki) McDaniel, Derik (Maya) O'Konski, Brent O'Konski, Emily Kent, Alysa Houghtaling, Angie (Mike) Vanderhoef, Anna Guiles and many, many great-grandchildren.
At Marge's request there will be no calling hours. Please join the family in a celebration of life on Saturday at 1:00 PM at the Canisteo Methodist Church with a luncheon to follow in the fellowship hall.
Funeral arrangements are in care of the Dagon Funeral Home, 38 Church St., Hornell, NY.
Marge was an avid animal lover, especially for animals without a loving forever home. Therefore, please send memorial contributions, in lieu of flowers, to the Hornell Humane Society, 7649 Industrial Park Road, Hornell, NY 14843.
To leave an online condolence or share a memory, visit www.dagonfuneralhome.com.