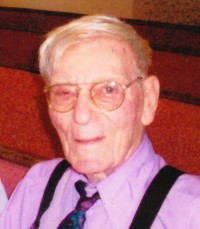 James W. Kurtz – 92 – a resident of Taylor Nursing Facility, formerly of Alderman Rd, Hammondsport, died Friday evening (July 10, 2015) at Ira Davenport Hospital in Bath, were he had been a patient for the past 2 days.
Born in Lowellville, OH on April 13, 1923, he was the son of Harry & Grace Kurtz.
Jim spent most of his younger years in Berlin Center, OH where attended Berlin Center High School.  He had been employed for over 25 years at Rockwell Standard in Newton Falls, OH.
A resent of the Bath-Hammondsport area for over 30 years, Jim had been employed at the former Phillips Lighting for several years and also engaged in general farming on his son's farm in Hammondsport.
He was a member of the Bethel Assembly of God Church where he and his wife were active in the pre-school program.  He was an avid fisherman and was also a "die-hard" Cleveland Browns Football Fan.
Jim was preceded in death by his son, Ron Kurtz who died in 2005; his brother, Robert Kurtz; 2 sisters, Jean Zarlingo and Esther Marino.
He was married for 70 years to the former Ruth Walters who survives.  Also surviving are 2 sons, Danny (Mary) Kurtz of Lake Havasu City, AZ and David (Karen) Kurtz of Medford, OR; many grandchildren, great-grandchildren, nieces & nephews.
The family of James W. Kurtz will receive friends on Thursday from 1:00 PM – 2:00 PM at the Bethel Assembly of God Church in Bath where funeral services will be held at the conclusion of calling hours at 2:00 PM with Rev. Craig Buckley officiating.  Burial will be in McDowell Cemetery, Wayne, NY.
Funeral arrangements are in care of the Dagon Funeral Home, 38 Church St., Hornell, NY.