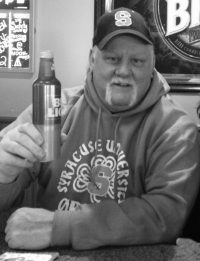 Robert J. "Bob" Hitchcock, Jr. 63 of Chaumont NY died unexpectedly Wednesday evening October 21st 2020, in the Town of Howard, he was there doing what he loved to do, bow hunting.
Born in Oswego, NY on March 12th 1957, he was the son of Robert and Barbara (Dumas) Hitchcock, Sr.
Bob grew up in Oswego and attended Oswego High School. Along with his father & brother, he operated Rural Machine Shop in Oswego for 25 years. He was also employed as a millwright for Local Union #1163 out of Syracuse. He retired in May 2018.
An avid sports fan, Bob loved the New York Yankees and the Syracuse Orangemen. He also loved to spend his time fishing & hunting.
He is survived by his wife of 31 years, Robin (Rucynski) Hitchcock. Also surviving are his son, Tyler Hitchcock of Oswego; his daughter, Sarah (Kameron) Williams of Norfolk, VA; his brother, Thomas (Mary) Hitchcock of Oswego, 3 Sisters, Deborah Kenyon of Rochester, Connie (Ken) Gould of Oswego and Donna (Harold) Morley of Oswego; several nieces & nephews. He will be missed by his yellow lab, "Ellie" who he loved dearly.
He was predeceased by his parents, and his brother in-law Paul Kenyon.
Bob loved to joke around and was always teasing someone. He loved to tell old stories and even though we heard them a million times, we still let him tell them anyway. He will be missed by many.
In following Bob's wishes, there will be no services. A "Celebration of Life" will be held at a later date.