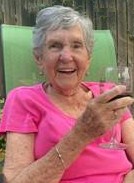 Yolanda Patricia Chirgwin Hogan, age 99, and a resident of Hornell, NY for over 70 years, passed away peacefully at her home on February 7, 2021 with family members at her side.  She was a shining light in the world.
Yolanda was born on September 3, 1921, in Buenos Aires, Argentina, to William Cresswell Chirgwin (a British Emissary to Argentina) and Alice Slooman Chirgwin. She was proud of her British citizenship, her ties to Argentina and especially her U.S. citizenship.
She was predeceased by her loving husband and former Mayor of Hornell, Francis P. "Dye" Hogan in 1976 and by her loving sister and best friend, Joan Chirgwin Usera, in 2014.  Sadly, at the age of four, her mother died in childbirth, along with her infant brother, Jon Siers Cary Chirgwin.
Following the death of her mother, she and her sister returned to England.  They attended boarding school and when they were not in school their paternal grandmother in England cared for them.  Upon graduation, Yolanda returned to Buenos Aires to attend nursing school.  When she graduated, she was offered a nursing position in Curacao, an island off the coast of South America.  It was there that she met the "love of her life," Francis P. Hogan.  They were married six weeks later in Curacao and returned to Hornell, N.Y. in 1945 to live and raise their family.
"Dye" and "Pat" raised eight children, all of whom survive her, including:  Patricia Lewis of Hornell, NY (whom she lived with and was her caregiver, along with granddaughter Michelle Burch), Michael (Rita) Hogan of Bluffton, SC, Kevin (Mary Jo) Hogan of Jamestown, NC, Shawn (Holly) Hogan of Hornell, NY, John (Shawna) Hogan of Valley Cottage, NY, Sheila (Jim) Rucinski of Olean, NY, Bernadette (Nick) Oliveri of Kenmore, NY and Christopher (Mary Helen) Hogan of Grafton, WI.  Her treasured 21 grandchildren and her beloved 28 (soon to be 29) great-grandchildren also survive her.  Grandma Hogan or GG, as she was called, loved every baby that was born as much as the first.  She nurtured and cared for all of her family members with unending warmth and affection.  Several nieces and a nephew also survive her.
Yolanda P. Hogan was a steadfast friend, a great travel companion, a book-lover, a crossword solver, a collector of fine antiques, an animal lover (especially Boo and Morgan), a consummate cook/baker (especially her delectable French bread), an avid walker (due to never having a driver's license), a good Democrat, a Michigan Wolverines and Buffalo Bills fan, a spontaneous giggler, a Bingo and Bunco groupie, and especially, a giver of everything she had to others.
"If you have much, give of your wealth; if you have little, give of your heart."  –  an Arabic Proverb
She loved to travel and especially loved her numerous yearly trips to Cape Cod, MA to visit her dear sister Joan and her husband, Julio Usera.  Joan and "Peggy (her sister's name for her) spent wonderful time antiquing, playing Scrabble and card games, drinking tea and red wine, speaking Spanish, and enjoying the beach and each other.  Despite life's adversities, they persevered and persisted with grace, joy, love, intelligence and elegance.
At Yolanda's request, there will be no prior calling hours.  A private family service will be held on Sat. Feb. 20th.  A memorial mass and burial service will take place at a later date.
Arrangements are in the care of Dagon's Funeral Home, 38 Church St., Hornell, NY.
In lieu of flowers, donations can be made in her memory to St. James Hospital Foundation, 7329 Seneca Rd. N., Hornell, NY 14843 or Catholic Charities Turning Point, 20 Elm St. Hornell, NY 14843.