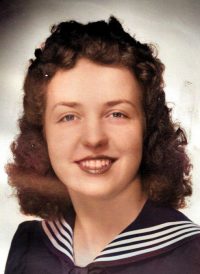 On February 17, 2021, Mary Catherine Bromwell, loving mother, grandmother, and great grandmother, passed away peacefully at age 97.
On July 12, 1923, Mary was born to Stephen and Emma Muth in Philadelphia, PA.  She married James A. Bromwell on May 6, 1944.  Most of their married life they resided in Ottsville, PA, members of St. John the Baptist Catholic Church, where they raised four children.
Mary had to leave school after the eighth grade to support her family farm during the Depression.  She developed a strong work ethic. Mary was a doer and a helper.  During WWII she left the family farm to work in Philadelphia at the Naval Shipyard where she welded on several ships including the Battleship New Jersey.  Mary went back to school in her forties and became a Licensed Practical Nurse and began a career in nursing at Doylestown Hospital.  She ended her career in the Nursery on the Maternity Floor where she lovingly cared for newborns.
Being kind and generous, Mary loved spending time with her family and friends.  A few of her favorite pastimes included travel, playing pinochle, gardening, walking through the woods, sitting on the porch, day trips to the beach, and eating pie.
She was predeceased by her parents; her husband Jim; and her two sisters, Vera Pursell and Anna Scheetz McCarty.  She was also predeceased by her lifelong friend of eighty plus years, Gladys Proca.
Mary is survived by her children James (Anna) Bromwell, John (Charlene) Bromwell, Mary (Ed) Schaible, and Patricia (James) Housworth.  She is also survived by her grandchildren James J. (Tracy) Bromwell, Kristine Koehler, James (Julie) DeSousa, John Patrick Bromwell, Cory Treadway, Leonard Treadway, James (Stacy) Housworth, Zack (Ally) Housworth, and Alex (Kristen) Housworth.  Also surviving are her great-grandchildren, Heather DeSousa, John Koehler, Megan, Colin, and Rheanna Bromwell, Logan and Aiden Treadway, and Joseph Housworth.  Mary leaves behind special nieces and nephews along with dear friends.
At Mary's request there will be no prior calling hours.  A Celebration of Mary's Life will be announced at a later date.
Funeral arrangements are in care of the Dagon Funeral Home, 38 Church St., Hornell, NY.
Mary's family wishes to thank Trisha Brown and her staff at Family Medicine, Bath, NY for the years of care and kindness shown to Mary, the team at CareFirst Hospice for providing to her physical and spiritual needs with such compassion, Father Stan of Our Lady of the Valley Parish, Hornell, NY for fulfilling Mary's last wish, and Jimmy Dagon of Dagon's Funeral Home for his kindness and respect.