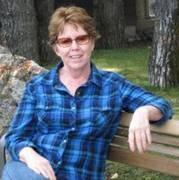 Geneseo, New York
Judie A. Perez, 71, of Geneseo, NY died peacefully at home with her family by her side on December 18th, 2021.
Judie was born in 1950 in Idaho, and was the daughter of Andrew & Virginia (Anderson) Trease.  She lived in several locations including Nevada, Idaho, Alaska, and New York. She had resided in the Geneseo area for the past 9 years.
She married the love of her life, Nelson, in 1969 in Elko, Nevada. She resided in Nevada and Alaska for most of her life before moving to Geneseo, NY to be closer to her son & his family.
Judie is survived by her loving husband, Nelson; their son and daughter-in-law Victor (Amy) Perez; grandchildren Megan (Joseph) Semmel, Victoria and Katharine Perez and her sister Christine and several nieces and nephews.
In addition to her parents, Judie was preceded by 3 sisters, Candice "Candi", Dorothy, and Peggy.
Due to COVID-19 no prior calling hours will be held at this time. Funeral services will be held privately at the convenience of the family. A celebration of life will be held on a later date at the Loon Lake Chapel.
Funeral arrangements are in care of the Dagon Funeral Home, 38 Church St., Hornell, NY.
In lieu of flowers, please make donations to the Livingston County Hospice, 2 Murray Hill Drive, Attn: Hospice Agency, Mt. Morris, NY 14510.
Thank you to the many friends and family that have supported us during this difficult time.
To leave an online condolence or share a memory, visit www.dagonfuneralhome.com