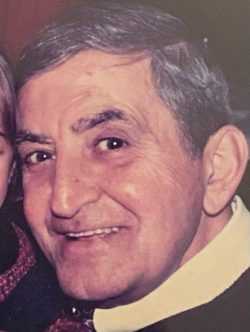 Ezio Anthony Fiacco, 92, of 38 Oak Street, Hornell, NY, passed away on December 26th at St. James Mercy Hospital, surrounded by his loving family.
Born in Torrice, Italy on June 29th, 1929, he was the son of the late Stephen and Mary (Panfili) Fiacco.
Ezio immigrated to the United States in 1938 at the age of nine. His family settled in Hornell, NY where he attended St. Ann's School and graduated from Hornell High School in 1948.
In 1951, he was drafted into the U.S. Army where he proudly served his country during the Korean War, eventually attaining the rank of Corporal, as a paratrooper with the 187th Airborne Infantry Regiment (Rakkasans).  He was a recipient of the Army of Occupation Medal, Korea Defense Service Medal, Combat Infantryman Badge, United Nations Korea Medal, and Good Conduct Medal.
After being honorably discharged from his military service in 1953, he returned home to Hornell, where he resumed his career at Stern and Stern Textile Mill. He retired in 1994 as Manager of the Weaving Department after 46 years of service to the company in various roles. He also assisted his family at Fiacco's Bakery in Hornell for many years, as well as working at the bar owned by his cousins, the Lisi's.
Ezio is survived by his wife of 68 years, Mary (Colomaio) Fiacco, whom he married at St. Ann's Church on August 1st, 1953; his two children, Stephen (Gerri) Fiacco of Warren, NJ and Richard (Kirsten) Fiacco of Corning, NY; his five grandchildren, Derek, Kyle, MaryClaire, Matthew, and Gina Fiacco; his two brothers Robert Fiacco of Hornell, NY and Stephen Fiacco of Brockton, MA; brother-in-law Leo Tuite of Brockton, MA; and many nieces and nephews.
Ezio was preceded in death by his twin sisters who died at birth, and his beloved sister, Edda (Fiacco) Tuite, of Brockton, MA.
He was a member of Our Lady of the Valley Parish and a communicant of St. Ann's Church in Hornell, where he served as an altar boy and usher for many years, and could be seen sitting in the back row of Mass with his extended family. His other memberships included the Knights of Columbus Hornell Council 243, Arthur H. Cunningham American Legion Post 440, Carducci Lodge (Sons of Italy), and the Hornell Moose Lodge.
He enjoyed woodworking, daily walks, tending to his lawn, bushes, and garden, and watching New York Yankees games. Above all else, he loved spending his retirement with his grandchildren, attending their school activities and sporting events, and telling them stories of his childhood in Italy, military service in Korea, and travels stateside and abroad for his career.
A private family viewing will be held at Dagon Funeral Home.  Family & friends are invited to attend a Mass of Christian Burial on Saturday January 1st, 2022 at 11:30 AM at St. Ann's Church. Burial with military funeral honors will be at Bath National Cemetery.
Due to recent New York State mandates, everyone attending the Funeral Mass will be required to wear a facemask.  Thank you for your cooperation.
A "Celebration of Life" will be held in June, 2022 at a time & place to be announced.
Ezio's family requests that in lieu of flowers, memorial contributions in his name be made to St. Jude Children's Research Hospital, PO Box 1000 – Dept. 300, Memphis, TN 38148.