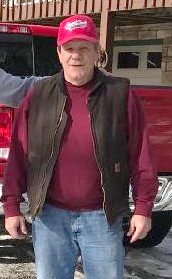 Scott E. Bennett – 61 – of  North Main St. Ext., Hornell, died Thursday evening (December 30, 2021) at Noyes Memorial Hospital following a long illness.
Born in Hornell on January 9, 1960, he was the son of William & Patricia (Davis) Bennett.
Scott, born and raised in Hornell, was a graduate of Hornell High School (class of 1978).  While in high school, Scott was an avid baseball player where he played catcher for the Hornell Red Raiders. With a passion so strong for the sport, Scott spent his daughters youngest years spending hours in the yard, teaching her how to be a catcher just like him.
At the age of 18, Scott began his career with the New York State Department of Transportation (NYSDOT) where he served on the Bridge Maintenance Crew and as a Drill Rig Operator.  He retired on January 30, 2015 following 38 years of service. Scott also served as a member of the AMVETS and the American Legion.
In his younger years, Scott enjoyed fishing (lake & stream) and in recent years loved taking daily walks.  He was a New York Yankee (MLB) and a Buffalo Bills (NFL) Football fan.  Scott enjoyed watching the hummingbirds as they gathered around his hummingbird feeders which he had on his porch.  He also enjoyed the time he spent tending to his many "hanging plants."
Scott was preceded in death by his parents, Bill & Pat Bennett; and his brother, William "Mike" Bennett.
Surviving are his daughter, Erin (Eric Slocum) Bennett of South Dansville; 2 brothers, Tim Bennett of Arizona and Jeff (Bridget) Bennett of Dinwiddie, VA; 1 sister-in-law, Karen Bennett ; 1 Aunt, Betty Pauly; 1 niece, Brooke (Mike) Pfister; 2 nephews, Jesse (Kristin) Bennett and Joe Fiegl;1 great-niece, Nellie; 4 great- nephews, Michael, Jacob, Benjamin and Jax.
At Scott's request there will be no calling hours.  A "Celebration of Life" will be held at date & time to be announced.
Funeral arrangements are incomplete at the Dagon Funeral Home, 38 Church St., Hornell, NY.
Scott's family request that in lieu of flowers, memorial contributions in his name be made to the Hornell Humane Society, 7649 Industrial Park Road, Hornell, NY 14843.