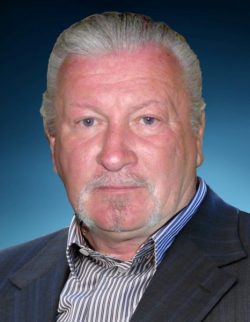 James "Wayne" Powers, age 71, of 31 Washington St., Hornell, died at the VA Medical Center in Bath NY yesterday from complications due to lung cancer.
Born in Bay Shore, LI on December 1, 1950, he was the son of Edgar & Veronica (Walsh) Powers.
Wayne was raised on Lake Ronkonkoma, LI and attended Sachem High School.  At the age of 17, he enlisted in the US Army and in 1969 served two Tours of Duty during the Viet Nam Conflict.  For his service, "Pops" as he was affectionately known, earned the Vietnam Campaign Medal, Overseas Ribbon and numerous US Army accommodation and achievement medals and ribbons.  He served honorably in the US Army, achieving the rank of Staff Sergeant (E-6) while serving as a Patriot Instructor stationed at Ft. Bragg, North Carolina, Grafenwöehr Germany and Ft. Hood, Texas.
SSG Powers' experience in the Army played a very important role in his life.  He frequently pointed out that the US Army afforded him valuable "life lessons" as well as experiences he feels he would not have otherwise been able to partake.  He swore an oath to the country that he loves to protect & defend and he carried it over to his family and his everyday life until the very day he passed.
A resident of the Hornell area for most of his adult life, he was employed as a plumber for Morrison-Knudson (MK) and Alstom Corporation for many years, retiring about 9 years ago.
Wayne enjoyed the outdoors and in his younger years loved hunting and spending time on the local firing range.  He was a former member of the Hornell American Legion and the Hornell VFW.
Pops was an avid story teller and would often entertain his children, grandchildren & friends with his amazing stories and exploits.  He used them as a teaching tool for examples of life's lessons.  These stories as well as his charismatic presence will be dearly missed.
Wayne is survived by his wife, Ellen Powers; seven children, Robin Rideout, Robert (Patricia) Rideout, Edward Rideout, Kimberly (Daniel Congdon) Kassay, Mildred Kassay, Randi (Steve) Parsell, Frank (Michelle) Powers.  He is also survived by numerous loving grandchildren, great-grandchildren, great-great-grandchildren; 1 brother, Robert Powers; 3 sisters, Diane (John) Grippo, Mary Molkentin and Judy Powers
The family of James "Wayne" Powers will receive friends on Sunday from 3:00 – 4:00 PM at the Dagon Funeral Home, 8 Church St., Hornell, NY.  A Memorial Service with Military Honors will be held at the conclusion of calling hours at 4:00 PM with Deacon Robert McCormick officiating.  These services will commemorate Wayne's outstanding life as a husband, father, soldier & patriot!!  Final interment will be in the Bath National Cemetery, Bath, NY.
Wayne's family request that in lieu of flowers, memorial contributions in his name be made to a charity of the donor's choice.
In honor of Wayne's service to his country as a Veteran of the US Army, the American Flag at the Dagon Funeral Home will be flown at half-staff.