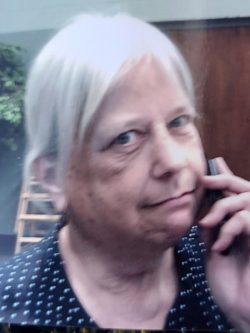 Sally-Jo Lamberson – 70 – of 313 North 15th Street, Olean, was called to Heaven Wednesday afternoon (March 16th 2022) at Buffalo General Hospital, following a long illness.
Born in Norwich, NY on February 28, 1952, she was the daughter of Robert "Bob" and Katherine "Kate" (Beliles) Lamberson.
Sally-Jo grew up in Allegany, NY and was a graduate of Allegany Central School (class of 1970).  Throughout the years she had been employed as a cashier and sales clerk for several businesses, including Odds & Ends in Olean and Hills' Department Store in Olean.
Sally had unwavering faith and love for God and her family.  She enjoyed baking.  She also had a deep love of poetry and had several poems published.  Sally-Jo's favorite times were simply spending time with her family, especially her many nieces and nephews.
She was preceded in death by her parents, Bob & Kate Lamberson; her infant brother, Joseph Lamberson; her sister, Bobbie-Kay Mikolajczyk; her brother-in-law, Steve Mikolajczyk; her brother, Richard "Rick" Lamberson; and her niece, Erica Lamberson.
Surviving are her sister & best friend, George-Ann Lamberson of Olean; her brother, John (Lori) Lamberson of Cuba, NY; her sister-in-law, Elaine Lamberson of Allegany; several nieces, nephews & cousins.
At Sally-Jo's request there will be no calling hours.  A Memorial Service and "Celebration of Life" will be held on Saturday, March 26, 2022 at 11:30 AM at  Christ United Methodist Church, 633 Linwood Ave Olean, NY, with a luncheon to follow in the church hall.
Funeral arrangements are in care of Dagon Funeral Home, 38 Church St., Hornell, NY.
Sally's family request that in lieu of flowers, memorial contributions in her name be made to a charity of the donor's choice.