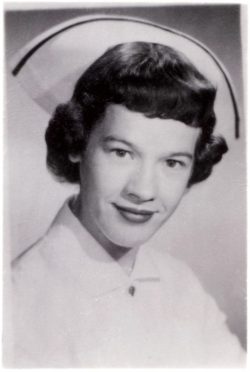 Ann A. Peisher – 87 – of 89 Greenwood St., Canisteo, died Monday evening (April 18, 2022) at St. James Hospital, following a brief illness.
Born in Salamanca, NY on June 23, 1934, she was the daughter of Everett & Rita (Bailey) Aldrich.
Ann grew up in the Hornell – Canisteo area and was a graduate of Canisteo Central School class of 1953.  She also graduated from St. James School of Nursing and began her nursing career at St. James Mercy Hospital.
On December 28, 1957, a beautiful warm sunny day, she was married to Robert "Bob" Peisher who was a member of the US Air Force.  As a "Military Family", Bob & Ann resided in many locations throughout the years, including Florida, Montana, California, Nebraska, New Mexico, New York State, Louisiana and Mississippi.
As a registered nurse, she was active with the American Red Cross for most of her adult life including Emergency Room, Special Duty in Winter Haven, OB-GYN Clinic, Maternity and Baby Care Classes training young girls.  Moving throughout the country always working blood drives along with teaching Baby Care and Nursing Arts (at each new Base, this surely provided a nice source of child care for her four children)
Ann received Nebraska's highest civic honor while working on traffic safety.  By approval of the Governor, she is an "Admiral" in the Great Navy of the State of Nebraska.
After returning to the Canisteo Valley in 1978 along with her husband Bob, Ann owned & operated Woodburn Monument Works of Canisteo for many years.  She served as a substitute school nurse for the Canisteo Central School.
Very community minded, Ann was a den mother for Cub Scouts and also active in the Maple City Lions Club.  She enjoyed making snow cones on Father's Day at the Kanakadea Park Car Show and the Eye Screening Program at local schools and Child Care.  Ann was active in local politics, by serving on the Canisteo Village Board and served as Deputy Mayor of the Village of Canisteo.  She was also a member of the Women's Democratic Party of Steuben County.
Ann had been a communicant of St. Joachim's Church of Canisteo and a member of the Altar & Rosary Society.  More recently, she was a member of Our Lady of the Valley Parish and St. Ann's Church of Hornell.  She was also a member of the Canisteo American Legion Auxiliary and the ESA International Sorority.
She was preceded in death by her husband, Robert "Bob" Peisher who died in 2009, 2 sisters, Sandra Cramer and Shari Jyl Turner.
Surviving are 3 sons, Bill (Phena Roe) Peisher of Canisteo, John (Patty) Peisher of Canisteo and Jay (Denise) Peisher of Lake Hamilton, FL; 1 daughter, Mary Hope (Randy) Silco of Mendon, NY; 1 sister, Suzie (Jim) Austin of Troupsburg, NY; 8 grandchildren; James Peisher, Ariana Peisher, Mickenzie Peisher, Ava Grace Peisher, Francis Bacon, Johnica Bacon, Taylor Silco & Allison Silco; along with many nieces & nephews.
Family and friends are invited to a Memorial Mass being held on Saturday, May 7, 2022 at 11:00 AM at St. Ann's Church in Hornell with a "Celebration of Life" to follow at the Canisteo Fire Hall.  Final interment will be in Hillside Cemetery Canisteo, NY.  At Ann's request there will be no calling hours.
Funeral arrangements are in care of the Dagon Funeral Home, 38 Church St., Hornell, NY.
Ann's family requests that in lieu of flowers memorial contributions in her name be made to Canisteo Fire and Ambulance Department, 14 South Main St., Canisteo NY  14823  or to Canisteo Hillside Cemetery,  PO Box 33 Canisteo NY  14823
To leave an online condolence or share a memory, visit www.dagonfuneralhome.com