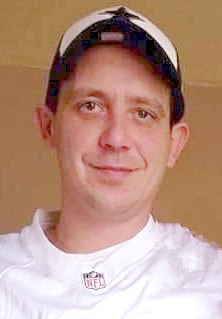 Joshua T. "Josh" Owens, 38, of Hornell, died unexpectedly Monday morning at his home.
Born In Dansville on January 14, 1984, he was the son of Lynn LaVerde of Hornell and Bob Owens of Arkport.
Josh grew up in Hornell and attended Hornell High school.  He was a lifelong carpenter and was compassionate about his work.  He had been employed by several construction companies in New York State.
He was a devoted fan of the Dallas Cowboys and loved listening to music.  Josh was known for his amazing sense of humor and for having the "biggest heart."   He was truly loved by his family and friends.
Josh will always be remembered for the love he had for his family.  That sweet smile, contagious laugh, his habit of licking the icing off all the birthday candles and always expecting everyone to have a freezer full of Popsicles will never be forgotten.
During the early morning hours on June 13th, Josh's demons took his life from him. Addiction does not discriminate.  He fought a long, hard battle for many years.  There were times of success and times of failure with his addiction.  What we do know is that his fight showed all of us how badly he wanted to win and be the best version of himself for him, his sons, and his family.  Addiction destroys and takes away everything important.  Josh would want us to remember him for the sweet soul he was because that was "Our Josh."
Josh was preceded in death by his maternal grandparents Ronald LaVerde and Rose Sheridan; his paternal grandparents, Harold & Beverly Owens; his uncle, Jimmy "U.J." LaVerde.
Surviving are 2 sons, Kayden & Kale Owens; his mother, Lynn LaVerde of Hornell; his father, Bob (Karen) Owens of Arkport; his sister, Jennifer Owens of Hornell; 2 nephews, Keelan Smith and Rylan Burley; 1 niece (Josh's "special girl"), Elaina Smith; several aunts, uncles & cousins.
At Josh's request there will be no calling hours.  Private services will be held at the convenience of the family.
Funeral arrangements are in care of the Dagon Funeral Home, 38 Church St., Hornell, NY.
In lieu of flowers, donations in his memory may be made to the Kayden & Kale Owens Education Fund, C/O Lynn LaVerde, 22 Old Almond Road, Hornell, NY 14843.
To leave an online condolence or share a memory, visit www.dagonfuneralhome.com