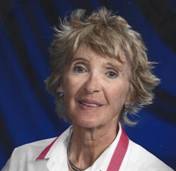 SIERRA VISTA — Karyl Anne (Barnett) Lamb passed suddenly on Sunday May 15, 2022, while doing what she loved…cycling.
She was born in Hornell, New York on June 10, 1953.  The Barnett family moved to Hornell, New York in the late 1800s.  Her parents, both deceased, were Francis M. (Ace) Barnett and Judith (Schreck) Barnett.  She had one older brother, David Barnett living in Charlotte, North Carolina.
Karyl graduated from Hornell High School in 1971.  Her love of music began early playing saxophone in grade school and continued through High School Band.  She continued to play the saxophone throughout her life and was a long time member of the Sierra Vista Community Band
Her competitive spirit showed early (she was 2nd chair to fellow band member Bill Pullman). She always laughed and said they had a sign in Hornell that said "Home of Bill Pullman" but none for her.
Karyl married Ronald C. Lamb out of High School.  Ron joined the Army and they did an Army tour in Germany.  While in Germany Karyl started doing Volksmarschs.  Ron and Karyl were divorced after returning to the US.
Her Civil Service career began 1971 while they were stationed at Aberdeen Proving Ground, Aberdeen, Maryland at the Army Air Force Exchange.  While in Zweibruecken, Germany she worked for the U.S. Army-Europe, Materiel Management Center.
Department of Defense U.S. Army Electronic Proving Ground (USAEPG) Ft. Huachuca, Arizona was the next step in her career beginning 1978 — 1985.
Leaving USAEPG in 1985 for career advancement she went to United States Army Information Systems Engineering Command (USAISEC) as a technical editor and writer until she retired in 2008.
During her 37 years with few breaks as a Civil Service Employee she never received any Performance Appraisals lower than excellent.  Awards for her contributions to the Commands USAEPG and USAISEC were many.  A notable one in 2006 was a Commander's Coin from USAISEC Col. Denise F. Williams for outstanding support of the USAISEC Total Engineering and Integration Services II Project.  "Your continuous hard work as the project Technical Editor and Writer over the last year has earned you much praise.  All of your work has been of the highest quality and has been critical to the success of this project."
In 2008 after proudly serving in two countries and two states with more than a quarter century of service Karyl retired from the Civil Service.
Not wanting to sit idle at home and waste time, she obtained her Commercial Drivers License (CDL) and began driving for Sierra Vista Public Schools as a bus driver.  She then left and began working for the Sierra Vista Transit as a bus driver until her death.
Physical health and competition were in her blood.  Volksmarschs, racquetball, snow skiing, and long distance cycling were her biggest sport favorites.  She competed in the Bisbee 1000 Stair Step climb, Triathlons, Mule Mountain Marathon as well as walks to raise money for charities.
Always striving to better herself, Karyl obtained an Associate of General Studies in 1997 while working full time from Cochise College.  She completed the Professional Paralegal Specialty Program: Civil Litigation, Atlanta, Georgia and the Cochise County Attorney Victim Witness Training Program Crisis Intervention & Mediation Training.
Karyl loved all animals especially cats and was a dedicated supporter of rescues and shelters.
Learning and promoting gun safety was another interest and Karyl became proficient in the use of firearms.  She frequented the Sierra Vista Firing Range with friends and assisted them in firearm use.
Through self-directed study, owls became an obsession through reading, watching, tracking, logging their habits and nesting patterns.  Karyl visited nesting sites around town regularly year after year, hauling her friends along, photographing and recording how many owlets were born each season.  She became a self taught expert on owl life in Cochise County.
Karyl lost her life partner and spouse, Patricia Del Vecchio, in November 2020.  They were together for 35 years.  Together they competed in many triathlons and were avid racquetball players.  Being major competitors, they won many awards at the local and state level and were nationally ranked in racquetball.
During her days as an "uber" athlete, Karyl suffered chronic foot, knee and back pain.  Enduring surgeries and rehabs, her indomitable spirit pressed her on and she returned to work and exercise after every setback.
Karyl leaves behind her beloved cat Gracie Belle; Patricia's three daughters, Diane Dolieslager, Theresa Del Vecchio and Cara Del Vecchio; co-workers; bus patrons; and many devoted friends
Kindness, Loyalty, Care, Honor, having an Excellent Work Ethic, and maintaining friendships both local and nationally were very important to her.
Remembrances in Karyl's name would be appreciated to the charity of your choice (with preference to animal rescue and shelters).
To leave an online condolence or share a memory, visit Dagon Funeral Home, 38 Church St., Hornell, NY.