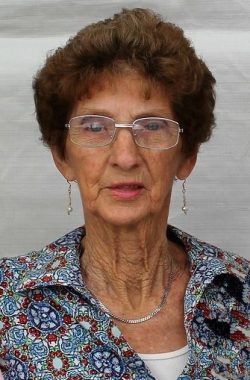 Mabel Jean "Midge" Shaver – 86 – of 6 Elmwood Place, Hornell, died peacefully Wednesday morning (June 22, 2022) at her home, surrounded by her loving family, following a short illness.
Born in Hornell on November 29, 1935, she was the daughter of Kenneth & Alice (Johnson) Ross.
Midge grew up in Hornell and attended school in the Hornell School System.  She briefly resided in Rochester where she was employed as a waitress at several restaurants & diners.
Following her return to Hornell, Midge had been employed throughout the years as a barkeeper for several local establishments, including Dish Cornish's, the Star Grill, Minnie's Tavern, Guido's Park Inn, Downey's Tavern, Lucy's Tavern and Ray's Tavern.
She was a former member of the Hornell Eagles Club, the Hornell VFW and Hornell Moose Lodge.  Midge, along with her sisters, enjoyed playing bingo and visiting the casinos. They were often referred to as the "Golden Girls."
A self-proclaimed "people person", Midge enjoyed talking and reminiscing with all of her customers as a barkeeper.  She had a deep love for her family and loved family dinners and simply hanging out with her grandchildren & great-grandchildren.  Over the years, her son could always expect to hear her cheering him on (loudly) at Little League, Babe Ruth and High School baseball games, without fail.  Blessed with an incredible memory, she would regale her children and grandchildren with stories and tales of life in Hornell from her childhood, never forgetting a person's name or lineage.  Also blessed with a lovely voice, Midge would break out in song at any time, especially upon hearing some of her favorite songs being played.
Throughout the years, Midge and husband John, along with their beloved canine companion "Mokie", enjoyed spending time fishing, boating and just relaxing at the family cottage, M&J Hideaway at Lamoka Lake, where no one was a stranger. Annual 4th of July gatherings at the Hideaway were family tradition throughout the years.  Mom and John welcomed and accommodated all.
In addition to her parents, Midge was preceded in death by her beloved husband and companion, John E. Shaver; infant daughter, Kathy Flint; her sister, Ella Gardner; and her brother, Lyman Ross.
Surviving are 1 son, Earl "Duke" (Dana) Flint III of Arkport; 2 daughters, Karen Noble of Hornell and Lynne (Ed) Wolfe of Hornell; 2 step-daughters, Susan (David) Sias of Colorado and Mary Ann (Jamie) Francis of Kentucky; 3 sisters, Lana Nichols of Hornell, Edith (Gerald) Jackson of Arkport and Arlene O'Dell of Hornell; 1 brother, Stanley Ross of Florida; 10 grand-children, James Dowler, Korey Edwards, Erin Flint, Rachel Brandow, Benjamin Noble, Kara Phillips, Julia Truslow, Aubrey Dugo, Jacob O'Heron and Katie Wolfe; many great-grandchildren and great-great-grandchildren; numerous nieces & nephews.
Midge's children would like to thank all who provided love, comfort and aid to our beloved Mother in these last days.
At Midge's request there will be no calling hours. A "Celebration of Life" will be held on a date & time to be announced.
Funeral arrangements are in care of the Dagon Funeral Home, 38 Church St., Hornell, NY.
Midge's family request that in lieu of flowers, memorial contributions in her name be made to either St. Jude Children's Hospital, 501 St. Jude Place, Memphis, TN 38105 or to Care First Hospice, 3805 Meads Creek Rd., Painted Post, NY 14870.
To leave an online condolence or share a memory, visit www.dagonfuneralhome.com.