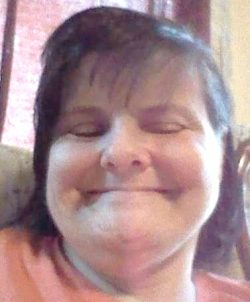 Catherine M. Hamblin – 50 – of 120 East Washington St, Bath, formerly of Hornell, died Friday afternoon (July 8, 2022) at Mt. Sinai Hospital in New York City, following a long illness.
Born in Rochester on May 5, 1972, she was the daughter of David VanValkenburg and Alice Hackett.
Catherine grew up in Hornell and was a graduate of Hornell High School (class of 1991).  Following high school graduation she resided in an ARC Home on Pearl St., Hornell for several years.
In the 1980s through the 1990s, Catherine competed in Special Olympics where she competed in swimming, track & field, volleyball and basketball.  She also enjoyed attending the Hornell Sports Night dinner which benefitted Special Olympics.
For many years, Catherine worked in the kitchen at Steuben ARC in Bath.  She enjoyed watching sporting events on TV and was a die-hard Atlanta Braves fan and actually knew the birthdays and batting averages of the entire Atlanta Braves roster.  She will be remembered as a girl with a big heart who made friends easily.  She will be sadly missed by her family & many friends, especially those at Walgreens in Hornell.
She was preceded in death by her mother, Alice who died in 1998.
She was married on December 8, 2018 to Kenneth "Ken" Hamblin who survives.  Also surviving are her father, David VanValkenburg of Atlanta, NY; 2 sisters, Robin (Bobby Austin) VanValkenburg of Fillmore, NY and Peggie (Thomas) Taylor of North Hornell; her nieces & nephews, Jessica Crandall, Jamie VanValkenburg, Alisha Conley, Tynia Conley and Carter Conley; 1 great-niece, Indigo Leggett; 2 great-nephews, Jared Leggett and Sammy Conley.
At Catherine's request there will be no calling hours.  A "Celebration of Life" will be held on Saturday (July 16, 2002) beginning at 1:00 PM at James Street Park, Hornell, NY.  Those wishing are welcome to bring a "dish to pass."
Funeral arrangements are in care of the Dagon Funeral Home, 38 Church St., Hornell, NY.
Catherine's family request that in lieu of flowers, memorial contributions in her name be made to either the NYS Special Olympics or the ARC of Steuben.
To leave an online condolence or share a memory, visit www.dagonfuneralhome.com