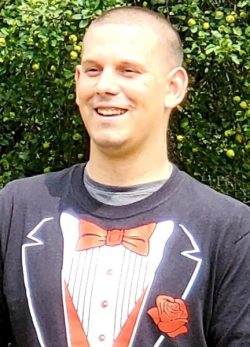 Casey J. Getman – 29 – of 49 Hill St., Hornell, died Friday afternoon (July 29, 2022) at Strong Memorial Hospital in Rochester as a result of injuries sustained in a motorcycle accident.
Born in Hornell on October 27, 1992, he was the son of Douglas Getman, Sr. of Andover & Amy Lou Sheroschick of Elmira.
Casey grew up in Hornell and was a graduate of Hornell High School & Wildwood Campus from the Cisco Networking Academy (class of 2011).  He had been employed for a time at Burger King and also as a supervisor for AVI Food Service at Alfred University.
For several years he resided in Hubert, NC and was employed at King Fisher corporation (a government contracting company) doing computer networking at Camp Lejeune Marine Base.  While living in North Carolina, Casey cared for his grandmother, Barbara Getman who he adored & cherished.
Moving back to the Hornell area about four years ago, Casey has been employed as a Communications Operation Specialist for GST BOCES, based in Elmira.
Casey was a "computer whiz" and loved computer networking.  He had a special bond with Molly Murphy his Cisco Networking Teacher who he helped whenever he could.  He enjoyed "gaming" and played computer games with people all around the world.  He loved riding his motorcycle and simply hanging out with his many friends, especially his husband, Jason Miller and his longtime friend, Krisstarah Edwards.  He and Jason enjoyed spending time at Darien Lake and actually had season passes.  Casey loved his pet ferrets, Lisa & Bart, that his grandmother got for him.  He also loved his 3 dogs, Goliath, Wolf and Moose.
He was preceded in death by his step-brother, Jonathan Brace.
On August 29, 2020, he was married to Jason Miller who survives.  The service was officiated by Krisstarah Edwards.  Also surviving are his father, Douglas (Delilah Gee) Getman, Sr. of Andover; his mother, Amy Lou (Steve Kimball) Sheroschick of Elmira; his brother, Douglas (Brittany) Getman, Jr. of Hornell; his sister, Debbie (Joshua) Dodge of Binghamton; his mother-in-law, Michelle (Jeff Heckman) Miller of Andover; his father-in-law, Daniel (Lori Snyder Drum) Miller of Hornell; 2 brothers-in-law, Andrew (Courtney Dailey) Miles of Hornell and Joshua (Kylee Dobbin) Miller of Peoria, AZ; his sister-in-law, Lena (Chris Wilkins) Miles of Wilmington; NC, 2 stepbrothers Dillon & David Brace of Andover; Blaine Priggy of Andover; 2 Step-sisters Lyla Gee of Andover; Katie Gee of Corning; several nieces & nephews, including Mikey & Dougie.
The family of Casey J. Getman will receive friends on Thursday from 4:00 PM – 6:00 PM at the Dagon Funeral Home, 38 Church St., Hornell, NY.  A "Celebration of Life" gathering will be held at the conclusion of calling hours at 6:00 PM at the Hornell VFW on Canisteo St., Hornell.  A private graveside service will be held at Woodlawn Cemetery in Canisteo at the convenience of the family.
A donation in Casey's name can be made to the Ronald McDonald House, 333 Westmoreland Dr., Rochester, NY 14620
To leave an online condolence or share a memory, visit www.dagonfuneralhome.com