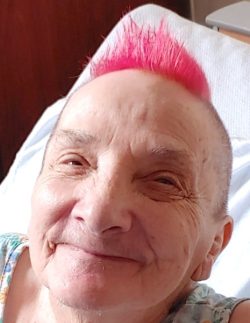 Anne M. Lane – 86 – formerly of Dansville, died peacefully Thursday, August 18th 2022 at 11:30 a.m. at Elderwood at Hornell Nursing Facility where she had resided for the past 5 years.
Born in Springwater, NY on May 21, 1936, she was the daughter of Frank & Edna (Glena) Leising.
Anne grew up in Springwater and was a graduate of Wayland Central School (class of 1954).  Following high school graduation, she moved to the Rochester area where she graduated from cosmetology school, becoming a hairdresser / beautician.  For several years, Anne owned & operated her own beauty parlor in Rochester.
While living in Rochester, Anne began working as a Therapy Aid at Rochester Psych Center.  After moving to the Dansville area in the late 1960's, she continued working for the Rochester Psych Center retiring with a total of 23 years of service.  For about 12 years, Anne worked part time for the Dansville Salvation Army (retail clothing) as a cashier.  She retired in 2004.
Anne had been a member of St. Peter's Episcopal Church of Dansville.  She was a Buffalo Bills Football Fan and especially enjoyed the Super Bowl years.  Anne was an avid reader whose favorite author was James Patterson.  She always looked forward to meeting up with her friends and having coffee at the Sunrise Restaurant nearly every day.  Anne also loved spending time with her family, especially her grandchildren & great-grandchildren.
She was married to Richard "Dick" Lane who died April 19, 2002.  Anne was also preceded in death by her sisters, Dorothy Upton, Margaret Perkins, Eleanor Coast and Catherine Leising; her brother, Joe Leising.
Surviving are 1 daughter, Almeda (Michael) Chase of Dansville; step-children, Richard (Vicki) Lane of Rochester, Steve Lane of Rochester, Valerie Lane of Canandaigua and Catherine Torres of Victor, NY; 3 grandchildren, Corey Chase, Michael Chase, JR and Pam Chase; many step-grandchildren; great-grandchildren; step-great-grandchildren; nieces & nephews.
At Anne's request there will be no calling hours.  Private services will be held at the convenience of the family.
Funeral arrangements are in care of the Dagon Funeral Home, 38 Church St., Hornell, NY.
Anne's family request that in lieu of flowers, memorial contributions in her name be made to a charity of the donor's choice.
To leave an online condolence or share a memory, visit www.dagonfuneralhome.com