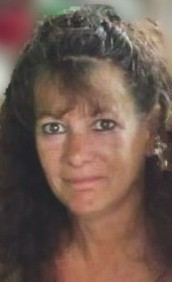 Sheila Ann Dwight – 57 – of 7696 Ricks Road, Hornell (Town of Fremont), died Friday morning (September 16, 2022) at her home, following a long illness.
Born in Hornell on August 15, 1965, she was the daughter of Betty (Young) Shorts.
Sheila grew up in the Canisteo area and attended Canisteo Central School.  She was a veteran of the US Army National Guard, serving her country from 1982 – 1983.
Following her honorable discharge from the National Guard, Sheila briefly worked as a seamstress & sorter at the former Marion Rohr Corporation.  For several years she was a "Stay At Home Mom," raising her children and taking care of her family.  For over 20 years, Sheila was employed at the Hornell High School Cafeteria, serving as a cook, server and eventually as kitchen manager.  She retired about four years ago due to ill health.
Sheila had a deep love of animals and for many years raised cows, chickens and pigs.  She also had a deep affection for her many border collies that she owned throughout the years.  Along with her husband, Kurt, she enjoyed rooting for the New York Yankees (MLB) and the Buffalo Bills (NFL).
As a young girl, Sheila's family spent time on Loucks Pond in Avoca where she developed a love of the outdoors and fishing.  Throughout the years, she continued her love of fishing — especially on the Dwight Family Pond in Fremont.
She was married on May 12, 1984 to Kurt Dwight who survives.  Also surviving are 2 children, Nicole (Joe) Harris of Hornell and Justin (Mandi) Dwight of Sykesville, MD; 1 sister, Dawn (Glen) Burritt of Canisteo; 6 grandchildren, Aeriana Bourgeois, Derrick Harris, Lincoln Harris, Collin Wheaton, Raiden Dwight and Savannah Dwight; several nieces & nephews.
At Sheila's request there will be no calling hours.  Private services will be held at the convenience of the family.
Funeral arrangements are in care of the Dagon Funeral Home, 38 Church St., Hornell, NY.
Sheila's family request that in lieu of flowers, memorial contributions in her name be made to the Hornell Humane Society, 7649 Industrial Park Road, Hornell, NY  14843.
To leave an online condolence or share a memory, visit www.dagonfuneralhome.com