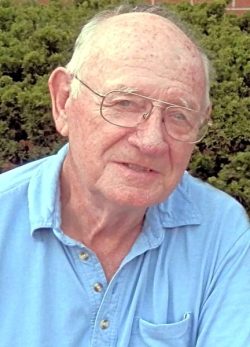 Fred F. "Ted" Ames, Jr., 85, of Bath, NY died early Thursday morning (September 22, 2022) at St. James Hospital.
Born in Bar Harbor, ME on January 28, 1937, he was the eldest son of Fred and Florence (Harriman) Ames (deceased).
He graduated from Bar Harbor High School in 1955, then attended the University of Maine, Orono, and graduated in 1959 with a degree in Civil Engineering.  Fred began a career as a civil engineer with the New York State Department of Transportation, Hornell Regional Office.  He retired in 1997 as the Regional Director of Transportation Operations.
Fred enjoyed photography and, at the age of 18, held the honor of being the youngest licensed movie projectionist in the State of Maine.  He was a member of the Bath Elks Lodge and volunteered with the Canaseraga ambulance.  Fred enjoyed flying, earning his Private Pilot License.  Fred was a lifetime member of the Penn Yan Flying Club and a member of the Civil Air Patrol.  He was a Buffalo Bills Football fan and avid golfer.  He enjoyed target shooting as a member of the Bath Rod & Gun Club. In retirement, Fred learned to play the violin and piano.  Several times a year he enjoyed traveling to Maine to visit family and friends, and to attend the annual Bar Harbor High School reunion.
Fred was married to Lynne M. Montgomery from 1961-1975.  In 1979, he married Dorothy Gemmell Ames, who died in 2016.
He is survived by his daughters, Patricia Ames of Rochester, NY, and Nadine Ames Rosenblum (Micah) of Towson, MD; his step-children, John Gemmell (Karen), Timothy Gemmell (Gail), Cynthia Stackpole (Robert), Linda Gemmell and Nancy Langton; his brother, Robert Ames (Judy) of Annapolis, MD; his sister, Dorothy "Dottie" Robins of Bar Harbor, ME; grandchildren, Harrison Rosenblum and Artemis Rosenblum; several step-grandchildren, nieces, nephews, cousins, class-mates, and friends.  Fred will also be sadly missed by his dear friend and companion, Aileen Mahoney, and her family.  He was preceded in death by his brother, Peter Ames, his stepson, William Gemmell, and his step-granddaughter, Brittni Gemmell.
The family of Fred F. Ames, Jr. will receive friends on Saturday, (Oct. 1st, 2022) from 12:00 PM  –  2:00 PM at the Dagon Funeral Home, 38 Church St., Hornell, NY with a brief service to follow at 2:00 PM.  Final interment will be in Ledgelawn Cemetery in Bar Harbor, ME.  Information about the grave-side ceremony and reception in Maine will be available in the future.
Fred's family requests that in lieu of flowers, memorial contributions in his name be made to The American Heart Association, PO Box 3049, Syracuse, NY  13220 (www.heart.org) or the Humane Society of the United States, 1255 23rd Street, NW, Suite 450, Washington, DC 20037 (www.humanesociety.org), or the Bar Harbor Historical Society, 127 West Street, Bar Harbor, ME 04609  (www.barharborhistorical.org). Memorial forms will be available at the Dagon Funeral Home.
To leave an online condolence or share a memory, visit www.dagonfuneralhome.com