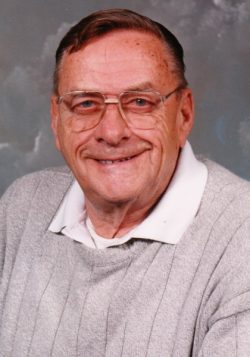 Gilbert "Gil" W. Yates ("Coach") – 94 – of 8232 Cream Hill Rd., Arkport, died Sunday morning (October 30, 2022) at his home.
Born in Lyons, NY on September 4, 1928, he was the son of Charles & Margaret (Taylor) Yates.
Gil grew up in Marion, NY and was a graduate of Marion Central School (class of 1948).  While in high school, he excelled in sports and "lettered" in baseball, basketball & soccer.
Following his high school graduation, Gil enlisted in the United States Air Force and served his country for four years during the Korean Conflict.  While in the Air Force, he worked in Air Force Security Service and had been stationed at the Scott Air Force Base in Illinois, Lackland Air Force Base in Texas, Brooks Air Force Base in Texas, Elmendorf Air Force Base in Alaska and the Nome Airport (formerly Marks Air Force Base) in Alaska.  He received his honorable discharge in 1952.
Following his discharge from the military, Gil enrolled at Brockport State College (under the GI Bill), Majoring in Physical Education and received his Bachelor's Degree in 1956.  After graduation from Brockport, he taught Phys. Ed. at Fredonia State College for one year where he also coached golf and basketball.  Gil decided to continue his education and enrolled at the University of Indiana where he earned his Master's Degree in Physical Education while also serving as a Teacher's Assistant.
After receiving his Master's Degree, Gil moved to Ellicottville, NY where he served as Phys. Ed. teacher at Ellicottville Central School for 3 years.  He moved to Arkport, NY in 1961 and began a 30+ year career at Arkport Central School.  During those 30+ years, Gil served as Athletic Director and coached basketball (12 years), soccer (28 years) and track (3 years).  He retired in 1989.
For over 20 years, Gil served as a high school umpire for the girls' softball program.  He also umpired for girls' softball tournaments throughout the area, such as in the Cinderella Softball League.
Gil was a member of Our Lady of the Valley Parish and a communicant of St. Ann's Church.  He had also been a member of the Hornell Moose Lodge and the Arkport American Legion receiving his 50-year membership award.   He was an avid golfer and was a member of the Hornell Golf Club and he enjoyed playing cards, especially poker & euchre, and always looked forward to monthly trips to the casino when possible.
He was married on July 9, 1960 to the former Diane Nitsche who died November 29, 2008.  Gil was also preceded in death by 2 sons, Gary Yates who died October 26, 1979 and Robert Yates who died March 8, 2020; his son-in-law, Jim Perry who died March 6, 2017; and 2 sisters, Evelyn Payne and Dorothy Meyers.
The family would also like to acknowledge the loving memory of Christine Rhone who passed September 3, 2021.  The two of them sharing ten years of companionship and laughter.  Additionally, in order to enjoy life to its fullest and maintain his independence as much as possible, the family would also like to thank and acknowledge the assistance of the Tender Loving In Home Care team.
Surviving are 4 daughters, Sharon (William) Meinking of Alfred, Mindy Perry of Hartsville, Brenda Abrams of Bath and Cyndi (Ron) Gula of Fulton, MD; 2 sons, Michael (Shari) Yates of North Tonawanda and Daniel (Terry) Yates of Batavia; his daughter-in-law, Rose Yates of Millbury, OH; 1 sister, Helen (Clark) Dingman of Marion, NY; 15 grandchildren; several nieces & nephews.
The family of Gilbert "Gil" W. Yates will receive friends on Thursday from 4:00 PM – 7:00 PM at the Dagon Funeral Home, 38 Church St., Hornell, NY.   A Mass of Christian Burial will be celebrated on Friday at 10:00 AM at St. Ann's Church with burial in Fremont Cemetery.
Gil's family requests that in lieu of flowers, memorial contributions in his name be made to the Hornell Humane Society, 7649 Industrial Park Rd., Hornell, NY 14843 or the Arkport American Legion, 1 Carter Street, Arkport, NY 14807.  Memorial forms will be available at the Dagon Funeral Home.
In recognition of Gil's service to his country during the Korean Conflict, the American Flag at the Dagon Funeral Home will be flown at half-staff.
To leave an online condolence or share a memory, visit www.dagonfuneralhome.com