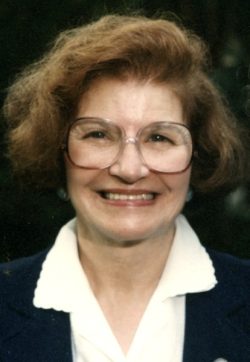 Angela Rose "Angie" Ninos – (97) – of 34 Hillcrest Dr., Alfred, NY died Monday afternoon (October 31, 2022) at Jones Memorial Hospital, following a brief illness.
Born in Delianuova, Italy on September 30, 1925, she was the daughter of Arcangelo & Josephine (Gongemi) Italiano.  Angie's family moved to the United States when she was 9 years old and settled in Bolivar, NY. Her family owned and operated the Chef Bar & Grill for years.  She was a graduate of Bolivar High School (class of 1946).
Angie was married on October 8, 1949, to John E. Ninos who predeceased her on February 18, 2019.
Angie was a resident of Alfred since 1949.  She & John owned and operated the University Diner, (AKA The Dog Cart), and in 1950 purchased the Collegiate Restaurant.  They operated both restaurants, (Angie serving as a cook) until 1953, when the University Diner was destroyed by fire.  They "retired" in 1996 when they sold the business to their son, John, and his wife Chelly, but continued to stay active and lend a helping hand for many years to come.
Angie had a deep love of the Alfred Community, and in return, she was loved and respected by the citizens of Alfred.  In 1986 both Angie and John were recognized by the Alfred University Alumni Association and named Honorary Alumni.  On December 12, 1993, they both received Honorary Doctorate Degrees from Alfred University.  She was a communicant of St. Brendan / St. Jude Parish and a communicant of St. Jude Church.
In addition to her husband, Angie was preceded in death by her sister Anne LaBella, of Olean, NY.
Angela is survived by her brother Arcangelo "Mike" Italiano, of Glens Falls, NY and four sons, James (Karrie) Ninos of Alfred, Michael Ninos of Murphys, CA, John (Chelly) Ninos of Alfred, and Nikolas (Kara) Ninos of Buffalo; 8 grandchildren, Jill (Bryan) Crandall, Johnny (Ashleigh) Ninos, Kolby (Kristen) Ninos, Trevor Ninos, Jody (Chuck) Skipper, Austin Williford, Aristotle Ninos, and Nikolas Ninos; 5 great-grandchildren; Iliana Ninos, Tyler Crandall, Austyn Crandall, Layla Crandall, Finley Ninos, and several nieces & nephews.
The family of Angela "Angie" Ninos will receive friends on Saturday, November 12, 2022 at St. Jude Parish Church from 10:00 AM until 12:00 (Noon) located at St. Jude Parish Church, Lower College Drive, (SUNY Alfred Campus), Alfred, NY.  A Mass of Christian Burial will be celebrated at the conclusion of calling hours at 12:00 Noon with burial in Alfred-Rural Cemetery, Alfred Station, NY.
The family would like to invite all to The Lake Lodge, 6197 Terbury Rd, Alfred Station, NY following the ceremony for a celebration of Angie's life.
Funeral arrangements are in care of the Dagon Funeral Home, 38 Church St., Hornell, NY.
Angie's family request that in lieu of flowers, memorial contributions in her name be made to St. Jude Parish Church.
To leave an online condolence or share a memory, visit www.dagonfuneralhome.com