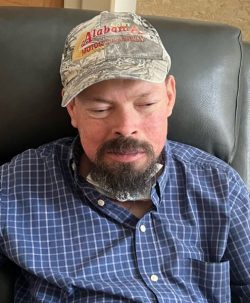 Joshua W. "Josh" Flaitz – 46 – of Route 21, Almond, NY, died Monday (November 21, 2022) at Strong Memorial Hospital in Rochester, following a long illness.
Born in Hornell on June 4, 1976, he was the son of William Flaitz and the former Kathleen Morse.
Josh grew up in the Hornell-Almond area and was a graduate of Alfred Almond Central School.  He later received his Associate's Degree in Business Administration from Alfred State College (SUNY Alfred). Graduating from college was one of Josh's proudest accomplishments.
When Josh was about 7 ½ years old, he was diagnosed with Behr Optical Atrophy Syndrome, a rare disease that weakens the optic nerves.  By the age of 15, he was totally blind.  He also had to contend with many other health issues, including Type #1 Diabetes.
Before losing his sight, he enjoyed riding dirt bikes and developed a love for motorcycles and cars.  Although blind, Josh finished high school, graduated from college and for many years worked with his father, Bill Flaitz, at Wild Bill's Used Cars in Almond.  Josh never felt sorry for himself.  He had a love for the ooutdoors and even loved splitting wood.
He enjoyed going to car races with his dad, often traveling to Woodhull Raceway and Canandaigua Race Track along with other racetracks in Pennsylvania.  Throughout the years, Josh got to know many drivers and mechanics and would often share stories with them.  Josh always also looked forward to going on bike rides.  On any given sunny day, you would see Josh with his dad riding their tandem bike through Almond.
Josh also loved animals and going on rides in his side-by-side with his dad.  His favorite past time was having a great meal; having seconds was never enough. Above all, Josh had the biggest heart and always knew how to make you laugh.
Josh was preceded in death by his half-brother, Eric Winkleman; grand parents, George and Dorothy Flaitz and Charles Ritter; two uncles, Brian Flaitz and Thomas Morse.
Surviving are his father, William "Bill" Flaitz of Almond; his mother, Kathleen (Thom) Davies of Florida; 2 sisters, Heidi Fuller (Daniel Weathers) of Alabama and Rachel (Matthew) Dailey of Wellsville; 1 brother, Lucas Flaitz of Alabama; his maternal grandmother, Carol Ritter; nieces, Kayla, Alysa, and Isabel; nephews, Matthew, Steven and Jake; aunts, Georgeanne (Jim) Carter, Mary Lou (Dennis) Kasa, Linda Sue (Gary) Recktenwald, Cynthia McKibben (Bob), Carol (Lavern) Warriner; uncles, Thomas (Monica) Flaitz, Scott (Mona) Morse; and several cousins as well.
At Josh's request there will be no calling hours.  A "Celebration of Life" will be held at the Arkport Legion on a date and time to be announced.
Funeral arrangements are in care of the Dagon Funeral Home, 38 Church St., Hornell, NY.
Josh's family request that in lieu of flowers, memorial contributions in his name be made to the American  Diabetes Association, PO Box 13067, Alexandria, VA 22312 or to the Society for the Blind, 1238 S Street, Sacramento, CA 95811
To leave an online condolence or share a memory, visit www.dagonfuneralhome.com.