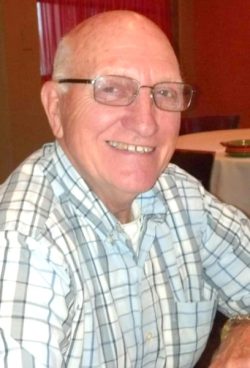 Gerald R. "Jerry" Brewer – 88 – of 192 East Avenue, Hornell, died early Thursday morning (January 19, 2023) at the Highland Park Nursing Facility in Wellsville, NY, following a long illness.
Born in Hornell on July 20, 1934, he was the son of Charles and Margaret (Sisko) Brewer.
Jerry was a lifelong resident of Hornell and graduated from Hornell High School (Class of 1953).  He was employed at Foster Wheeler Energy Corp. in Dansville for 35 years.
An avid sports fan, Jerry was dedicated to youth sports in Hornell.  He served as a board member, coach, and umpire at the Hornell Little League for many years and was also active in the Grasshoppers, Midget Football, and Babe Ruth leagues.  Jerry enjoyed bowling, bow hunting, and watching/yelling at the TV during every NFL game, especially when watching his two favorite teams, the Miami Dolphins and the Dallas Cowboys.  He was also a longtime member of the Hornell Knights of Columbus.
Jerry was a member of Our Lady of the Valley Parish and a communicant of St. Ann's Church where, throughout the years, he served as an usher and Eucharistic Minister.  He was also a member of the Pastoral Council, helped tend the cemeteries, and was devoted to his weekly hour in the Adoration Chapel.  Jerry devoutly practiced his Catholic faith attending Mass and sharing his time and talents.
Jerry was happiest when living his faith and being with his family.  He especially loved watching his children and grandchildren's sporting and musical events, and he loved family holidays and celebrations.  He was a great handyman and loved to fix things.  He did this in his own home and for his family and friends.  Jerry will be remembered for his love of helping people.
He was married at St. Ann's Church on June 27, 1953 to the former Nancy Girondo who died March 11, 2003.  Jerry was also preceded in death by his parents, Charles & Margaret Brewer; his mother-in-law & father-in-law, Frank and Josephine Girondo; one sister, Joyce Lockwood; his in-laws, Tony & Helen Girondo, Dominic & Roberta Girondo, Sophie & Bill Goldstein, Gary Lloyd, Arthur Lockwood, and Arthur Burritt.
Jerry is survived by three sons, Tom (Jeanne) Brewer of Hornell, Paul (Brittany) Brewer of Hornell, & Mark (Richard McGowan) Brewer of Rochester, NY; his grandchildren, Nicole McIntosh of Canaseraga, Chris (Melanie) Brewer of Hornell, and Krista Brewer of Hornell, Jacob Brewer of Las Vegas, NV, Jaren Brewer of Newport News, VA (USAF); great-grandchildren, Jenna, Julionna, & David McIntosh of Canaseraga, Christian & Brendan Brewer of Hornell, Amelia  & Natalie Broughton of Hornell; and great-great grandchildren, Charlotte Graham & Eleanor London of Canaseraga; brothers and sisters, Charles (Margaret) Brewer of Hornell and Dolores Burritt of Fremont; sister-in-law, Mary Jane Lloyd; many nieces, nephews, and godchildren.
Jerry's family would like to extend a heartfelt, sincere thank you to the staff at Updyke's Willow Ridge for the wonderful and loving care he received over the last three years.
To honor Jerry's wishes, there will be no calling hours.  A Mass of Christian Burial will be celebrated on Monday at 10:00 AM at St. Ann's Church, Hornell NY.  Burial will be in St. Mary's Cemetery, Fremont, NY.
Funeral arrangements are in care of Dagon Funeral Home, 38 Church St., Hornell, NY.
Jerry's family requests that, in lieu of flowers, memorial contributions in his name be made to the Alzheimer's Association Rochester & Finger Lakes Region Chapter, 200 Meridian Centre Blvd, Suite 110, Rochester, NY 14618.
To leave an online condolence or share a memory, visit www.dagonfuneralhome.com.