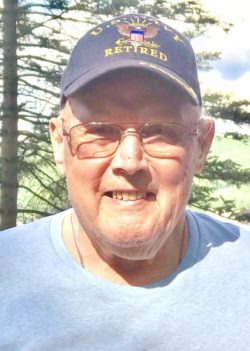 Hornell, New York
Jacob W. "Jake" Flaitz – 91 – of Hornell, died early Tuesday morning (February 7, 2023) at Elderwood at Hornell Nursing Facility, where he had resided for the past 10 months.
Born in Hornell on January 13, 1932, he was the son of Leon & Lena (Saxton) Flaitz.
Jake grew up in Hornell and was a graduate of Hornell High School (class of 1951).  While in high school, he excelled in sports and served as co-captain of the HHS Football and was a starting guard on the HHS Basketball teams.  However, his "best sport" was baseball where he eventually signed a minor league contract with the Brooklyn Dodgers (MLB).  In 1993, Jake was honored by being elected to the Hornell High School Sports Hall of Fame.
Following high school graduation, Jake was employed for a time as a house painter, working with Al Chapman and Hud Coogan.  He was a Veteran of the US Navy, serving his country from 1952 – 1956.  While in the Navy, Jake traveled throughout the world including the Mediterranean Sea and visiting many countries including Greece & Italy.
For about 7 years, Jake resided in Niagara Falls, NY where he began working for New York Telephone.  In 1964 he moved back to his beloved Hornell and continued working for New York Telephone which later became NYNEX and Verizon.  He retired as a lineman and cable splicer in 1992 following 35 years of service.
Jake was a member of Our Lady of the Valley Parish and a communicant of St. Ignatius Loyola Church and later St. Ann's Church.  He was also a member of the Hornell American Legion, the Hornell Moose Lodge and a proud "card-carrying" member of the Communication Workers of America (CWA) Union.  
For over 10 years, Jake served as a youth football coach in Hornell.  The Cowboys, his Midget Football team had a 4 year stretch where they were undefeated.  He was a Hornell Grasshopper Baseball Coach for several years.
Following his retirement, Jake became somewhat of a golfing fanatic and would "hit the links" every chance he got.  He also became an accomplished carpenter & cabinet maker and would create beautiful, custom-made bookcases, tables and TV stands, often spending many hours in his basement fine-tuning his craft.
Jake was married on November 13, 1957 to the former M. Elaine Delaney who died October 21, 1977.  On September 27, 1980 he married the former Mary Brody Madau who died December 19, 2016.  He was also preceded in death by his daughter, Rebecca Flaitz; his son, Andrew "Andy" Flaitz; 5 brothers, Sam Flaitz, Richard "Dick" Flaitz, George Flaitz, Donald Flaitz and Robert "Bob" Flaitz; 2 sisters, Geraldine "Dean" McLane and Kathryn House.
Surviving are 3 sons, Jacob (Kelly) Flaitz, Jr. of Conesus, NY, Timothy Flaitz of Rochester and Thomas (Tonia) Flaitz of Hornell and a daughter, Patricia "Trish" (Bud) Paris of Warren, PA; a step-son, Anthony (Patti) Madau of Leroy, NY; his sisters-in-law, Donna Flaitz and Dolores Flaitz; 12 grandchildren, Jacob Andrew Flaitz, Alex Flaitz, Justyn Schumaker and Julia Flaitz; Haylie (Jariot) Spicer, Sydney Paris, Tori (Patrick) Morris, Beau Paris, Teagan Paris, Lexi Paris, Antonio Madau and Peter Madau; 2 great-grandchildren; many nieces & nephews.
At Jake's request there will be no calling hours.  A Mass of Christian Burial will be celebrated on Tuesday at 10:00 AM at St. Ann's Church.  Burial with full military honors will follow in St. Mary's Cemetery.
Funeral arrangements are in care of the Dagon Funeral Home, 38 Church St., Hornell, NY.
Jake's family request that in lieu of flowers, memorial contributions in his name be made to St. Ann's Academy, 41 Genesee St., Hornell, NY  14843.