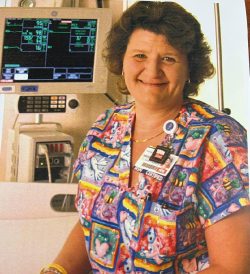 Theresa M. Murray, 61, of Indianapolis, IN, formerly of Hornell, died unexpectedly on Tuesday, January 31st at her home.
Born March 31, 1961, in Hornell, she was the daughter of Joseph and Mary Alice Horan Murray.
Theresa was a 1979 graduate of Hornell High School where she participated in soccer and softball, earning letters in each. She was honored to be inducted into the Hornell High Sports Hall of Fame in 2021. Theresa was also a 1979 graduate of the BOCES LPN program in Hornell, NY.
Following high school, she continued her education at Erie Community College in Buffalo where she again was a softball standout joining the reigning junior college national champion team. In her first year at ECC she had a pitching record of 20-3 including 4 no-hitters. The school went on to two more appearances in the college championships. Theresa was then recruited to the Indiana University-Purdue University campus. Indiana University had offered her a softball scholarship and she continued her education there, earning both her Bachelor's and Master's degrees in nursing. While at IUPUI, her season pitching record for 1984 was 12-2 with a .82 ERA. In 1985, Theresa went 14-7 with an ERA of 1.20. Theresa was honored to be placed by the NAIA in 1985, district 21 to the all-district team. Her Bachelor's degree was earned in 1987, having already started her career in 1985 at Community Hospital East as a staff RN in Critical Care.
Over her 35+ year nursing career, Theresa worked in many different roles including but not limited to Staff Nurse, Assistant Head Nurse, Educator and Critical Care Clinical Nurse Specialist. Her MSN degree as a Critical Care Clinical Nurse Specialist was achieved in 1995. Theresa's membership and participation in the AACN (American Association of Critical Care Nurses) at the local, state, national levels helped shape the standard of care in ICUS across the country. Her work in eliminating Ventilator Acquired Pneumonia through IHI's saving 100 thousand lives campaign was recognized nationally. Theresa introduced the intervention of proning patients in the ICU at Community Health Network and saved the lives of numerous patients. Authoring numerous articles on her work in mobilizing ICU patients and leading VHA's TICU (Transforming the Intensive Care Unit) program, she transformed patient care in the ICU and in the process saved countless lives.
Throughout her nursing career, Theresa influenced, through her dedication and talent, the lives and careers of many nursing students, new nursing graduates and as well as seasoned professionals. She was a true nurse's nurse, as fierce about the nursing profession as an advocate for the best patient care. She was a role model in ethical decision making and dedicated her career to improving patient safety and saving the lives of patients through evidence- based care. Theresa was loved and admired by all who had the pleasure of working with her. She had been honored as Critical Nurse Specialist of the year in 2006 by the Association of Critical Nurse Specialists, was the first recipient of the Art and Science in Nursing award at CHNw in 2003 and received the Nursing Excellence Lifetime Achievement Award in 2022 at Community Hospital. She was selected for Who's Who in American Nursing in 1990, awarded the 2003 Art and Science of Nursing award from the Community Health Network at the Annual Nursing excellence awards. Also, in 2003 she was awarded the Meritorious Award for Quality from Anthem Hospital. In 2006, Theresa was selected by her peers nationally as CNS of the year for her work in quality improvement including participating in developing the Ventilator Bundle that is the standard of care for all patients on mechanical ventilation, and the first rapid response team in the world that is now a Joint Commission mandate for all hospitals.
A brilliant speaker, Theresa delivered numerous talks and consultations across the United States. She participated on numerous local and national boards, nursing and non-nursing and as a past President of the National Association of Clinical Nurse Specialists. She served on the Board of the local YMCA and rescued Labradors.
Theresa was predeceased by her parents along with her dog & faithful companion, Lucy.
Theresa loved her family and friends and enjoyed spending time with them. She loved animals, especially dogs. She loved playing golf and was a fan of the Indianapolis Colts.
She is survived by her two sisters, Patricia (Andy) Butler of Hornell and Maureen (Timothy) Daubert of Norfolk, VA; three brothers, Joseph Murray of Montoursville, PA, Michael Murray of Hornell and William (Deborah) Murray of Gaithersburg, MD; two nieces, Nicole Butler and Susan Butler both of Hornell; two nephews, Brian Butler of Hornell and Lucas (Rebecca) Murray of Arlington, VA; one grand-niece Mia Butler of Hornell; several cousins and numerous friends and colleagues.
To celebrate Theresa's rich legacy as a kindhearted, passionate, and talented woman, a memorial service will be held at the Dagon Funeral Home, 38 Church St., Hornell, NY on Saturday, February 25th at 12 Noon with Deacon Robert McCormick officiating. Final interment will be in St. Mary's Cemetery, Fremont, NY. Theresa's service will be live streamed and can be viewed via Facebook at https://www.facebook.com/DagonFuneralHome.
Funeral arrangements are in care of Dagon Funeral Home, 38 Church St., Hornell, NY.
Theresa's family requests that, in lieu of flowers, memorial contributions in her name be made to the Hornell Area Humane Society, 7649 Industrial Park Road, Hornell, NY 14843. Memorial forms will be available at the funeral home or by visiting https://www.hornellanimalshelter.org/donate.html