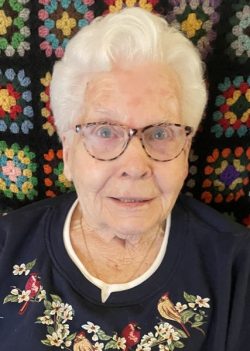 Hornell, NY / Almond, NY
Virginia M. Benson – (97) – a resident of Updyke's Willow Ridge, formerly of Almond, died late Monday evening (May 8, 2023) following a brief illness.
Born in Hardy, OK on August 15, 1925, she was the daughter of Benjamin & Margaret (Hoback) Thomas.
Virginia grew up in Winfield, KS and was a graduate of Winfield High School (class of 1942). She resided in Susquehanna, PA from 1944 – 1954. She moved to Almond in 1954 and spent the bulk of her time there before moving to Hornell in 2011.
During WWII, Virginia served as a volunteer with the USO. She had been employed as a telephone operator for AT&T for about 2 years and for 25 years worked in the cafeteria at the Alfred-Almond Central School. Throughout the years Virginia also worked at the former Richmeyer's Grocery, Tuttle & Rockwell Department Store and served as a hostess at the former Big Elms Restaurant.
Virginia was a member of the Almond Community Church and had also been a member of the Almond Historical Society and the 20th Century Club Library in Almond.
She was married on November 3, 1944 to George Benson who died in 1984. She was also preceded in death by her sister, Juanita Evans; brothers-in-law, Richard Jones and Jerry Evans; sister-in-law, Erla Shaw.
Surviving are her daughter, Margaret "Peggy" (James) Smith of Palm Coast, FL; 2 sons, Leo "Tom" (Vickie) Benson of Almond and George (Sue) Benson of Almond; 1 sister, Mary Ellen Jones of Derby, KS; 5 grandchildren, Angela Smith, Kari (Dale) Devendorf, Kellie (Joe) Bossie, Lisa Summers and Jennifer Benson; 8 great-grandchildren; several nieces & nephews.
The family of Virginia M. Benson will receive friends on Saturday from 1:00 PM – 3:00 PM at the Dagon Funeral Home, 38 Church St., Hornell, NY where funeral services will be held at the conclusion of calling hours at 3:00 PM with Rev. Scott Dumund officiating. Burial will be in Woodlawn Cemetery, Almond, NY.
Virginia's family request that memorial contributions in her name be made to the Almond Union of Churches, Main St., Almond, NY 14804. Memorial forms will be available at the Dagon Funeral Home.
To leave an online condolence or share a memory, visit www.dagonfuneralhome.com