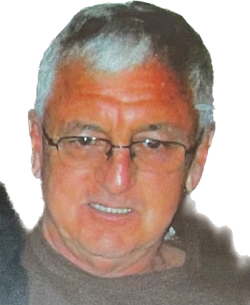 Hornell, New York
James J. "Jim" Beaver – 73 – of 16 Pine St., Hornell, died unexpectedly Friday morning (May 5, 2023) shortly after being admitted to St. James Hospital after being stricken at home.
Born on June 14, 1949, he was the son of John & Loretta (McCarthy) Beaver.
Jim, affectionately known as "Beav," grew up in Hornell and attended St. Ann School.  He later graduated from Hornell High School (class of 1967).
Following high school graduation, Jim enlisted in the US Marine Corps and, after graduating from Boot Camp in Paris Island, SC, served 13 month in Vietnam during the height of the Vietnam War.  While serving in the Marines, he toured the world and was stationed in such places as Thailand and South Asia. Returning to the United States, Jim was stationed at Camp Lejeune, NC for several months before being honorably discharged with the rank of Corporal.  Jim was always proud of the fact that he joined the military at the same time as his high school buddies, Mike Crooks (US Army) and Mike Coogan (US Army).  
Returning to the Hornell area, Jim began his 45 year career working construction for Local Laborer Union #1358 of Elmira, NY.  Throughout the years, he worked on many major projects including the State Office Building in Hornell, construction of Route 36, countless bridge repairs, Hornell Middle School & Hornell High School additions & renovations, Arnot Ogden Hospital renovations, St. James Mercy Hospital addition & renovations and most recently the Windmill Project in Cohocton-Wayland just to name a few.  He retired in 2014.
Jim was a member of Our Lady of the Valley Parish and a communicant of St. Ann's Church.  He had also been a member of the Hornell VFW, Hornell American Legion, Hornell Moose Lodge and the Hornell Association.  He enjoyed rooting FOR the New York Yankees and AGAINST the Buffalo Bills and also enjoyed driving around in his truck looking at new construction sites in the area. Jim loved amusement parks and visiting his brother, Frank, to go to Hershey Park and ride the roller coasters.
He always knew the people in charge of local construction.
In addition to his parents, Jim was preceded in death by 3 brothers, Francis "Fran" Beaver, Joseph "Joe" Beaver and John "Jack" Beaver, Jr.
He was married on July 12, 1975 to the former Mary K. Witzman who survives.  Also surviving are 2 daughters, Jeanna (Rob Crosby) Beaver of Bel Haven and Bridget Loretta Beaver of Hornell; 1 son, James "Jim" (Lauren) Beaver, Jr. of Almond; his "brother," Mike Crooks, with whom he was raised; 8 grandchildren, Lily Crosby, Ella Crosby, Oliver Crosby, Gavin Beaver, Jayla Beaver, Cooper Hanchett, Colton Hanchett and Brook Beaver (with whom he helped raise); several nieces & nephews.
At Jim's request there will be no calling hours.  Private services will be held at the convenience of the family with final interment at the Bath National Cemetery, Bath, NY.
Funeral arrangements are in care of the Dagon Funeral Home, 38 Church St., Hornell, NY.
Jim's family request that in lieu of flowers, memorial contributions in his name be made to the Bath VA Hospital Activities Fund, 76 Veteran's Ave., Bath, NY  14810.