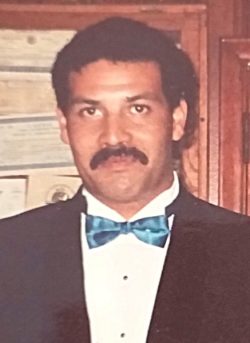 Hornell, New York
Ezequiel "Zeke" Rodriguez – (66) – of 140 Hornell St., died Thursday evening (August 24, 2023) surrounded by his family, following a long illness.
Born in Barceloneta, Puerto Rico on September 24, 1956, he was the son of Juan & Carmen (Rivera) Rodriguez.
Zeke grew up in New York City and was a graduate of Brandeis High School. He was a veteran of the US Army from 1975 to 1978 and ran concurrently with the National Guard until 1998. He was stationed in several locations including North Carolina, New Jersey, Texas and Germany.
He has resided in the Hornell area for over 20 years and was a self-employed carpenter and handyman also, a nurse assistant, home health aide, & forklift operator.
Zeke enjoyed music (especially Salsa Music) and played the Congas (AKA Conga Drums). He also was a "nature lover" who enjoyed camping & fishing. Although Zeke had no special team, he liked watching NFL Football on TV.
He was preceded in death by his parents, Juan & Carmen Rodriguez.
Survivors include his longtime friend & companion, Celine Le with whom he resided. Also surviving are his children, Giselle Ortiz (Rodriguez), Chaz Rodriguez, Rochen Loren Rodriguez, Nicole Sherise Rodriguez, Vanessa Jovan Rodriguez, Fabian Davon Rodriguez, Nikko Rodriguez;
his siblings, Juan R. Rodriguez, Evelice Solano, Marycel Rodriguez and Enid Gonzalez; his nieces & nephews, Shenice Patton, Jamal Rodriguez, Yvonne Nicole Rodriguez, Onix Solano, Julian Solano, Elisha Rodriguez-Ford, Alexis Torres, Yaxier Torres and Naya Gonzalez; 10 grandchildren; 3 great-grandchildren; other family members; Stella Millett, Pedro Solano and Henry Gonzalez; and many friends from Hornell.
The family of Ezequiel "Zeke" Rodriguez will receive friends on Friday, September 22, 2023 from 12:00 (Noon) until 1:00 PM at the Dagon Funeral Home, 38 Church St., Hornell, NY. A Memorial Service will be held at the conclusion of calling hours at 1:00 PM with Glenn Kamery of the Jehovah's Witnesses officiating.
The Memorial Service will be held both in-person and on Zoom beginning at 1:00 PM. To join the Zoom meeting, follow the link below:
1. Click link: https://us02web.zoom.us/j/87618146235?pwd=ZStzQzhWZ1U0Sm50NEdOaUN2MTFmUT09
2. Enter meeting ID and Password if prompted:
3. Meeting ID: 876 1814 6235
4. Passcode: 813102
Zeke's family request that in lieu of flowers, memorial contributions in his name be made to a charity of the donor's choice.
To leave an online condolence or share a memory, visit www.dagonfuneralhome.com.