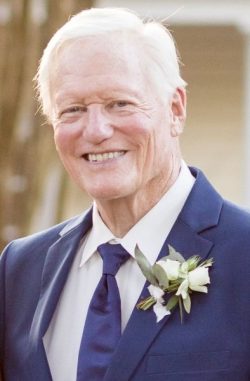 Hornell, NY / Arkport, NY
James "Jay" Pullman, Jr. – 80 – of 6 Brush St., Arkport, formerly of Hornell, died unexpectedly at home on Sunday, September 3, 2023.
Born in Brooklyn, NY on August 2, 1943, he was the oldest of seven children born to Dr. James & Johanna (Blaas) Pullman.
Jay grew up in Hornell and was a graduate of Hornell High School (Class of 1961). He earned his Bachelor's Degree in English from Wesleyan University in Middletown, CT and later earned his Master's Degree in Education from Cornell University in Ithaca, NY.
He resided in Newfield, NY for many years and was employed as an English Teacher at Ithaca High School for over 35 years, retiring in 1999. Following his retirement, Jay moved to Bay St. Louis, MS where he resided for a short time. After losing his home there to Hurricane Katrina, he moved back to the Hornell/Arkport area where he met his wife, Terry in 2005.
After moving to Arkport, he was finally able to devote time to his passion of oil painting. Jay studied art in many locations throughout the world, including France, Spain, Mexico, Italy, Tennessee and New Hampshire. In recent years, his home has become an art gallery with countless paintings on the walls. Jay has created and sold thousands of paintings for people throughout the country.
Jay had a deep appreciation of music and was a gifted guitar player. In his younger days he was a member of a band, playing in the Ithaca area. He enjoyed going to concerts and also visiting coffee houses.
He was a member of the St. James Property Board and also served as Vice President of the Bethesda Foundation.
He was preceded in death by his parents, Dr. James & Johanna Pullman; and by his former wife, Patricia "Pat" Schu Pullman.
Jay was married on March 11, 2006 to the former Theresa "Terry" Guenther who survives. Also surviving are his daughter, Amy (Steven) Galiotti of Spencerport, NY; his son, James (Eydie) Pullman of New Albany, MS; 3 step-daughters, Elsa (Michael) Geraci of Rochester, Kristen (Justin) Hammond of Nashville, TN and Katie (Max) Houy of Arkport; 3 brothers, Joseph "Joe" (Ellen Ketchum) Pullman of Truxton, NY, John (Sue) Pullman of Cardwell, MT and William "Bill" (Tamara) Pullman of Los Angeles, CA; 3 sisters, Helena (Paul) Bunker of Sinking Spring, PA, Linda Pullman of Wellsville and Johanna (David) Jaffer of San Jose, CA; 8 grandchildren; several nieces & nephews.
At Jay's request there will be no calling hours. Family & friends are invited to a "Celebration of Life" on Thursday (September 14, 2023) from 4:00 PM – 7:00 PM at The Main Place, 251 Main St., Hornell, NY where stories of Jay's life can be shared by all. Final interment will be in Heritage Hill Cemetery, Arkport, NY.
Funeral arrangements are in care of the Dagon Funeral Home, 38 Church St., Hornell, NY.
Jay's family requests that in lieu of flowers, memorial contributions in his name be made to the Arkport Public Library, PO Box 1028, Arkport, NY 14807.
To leave an online condolence or share a memory, visit www.dagonfuneralhome.com.