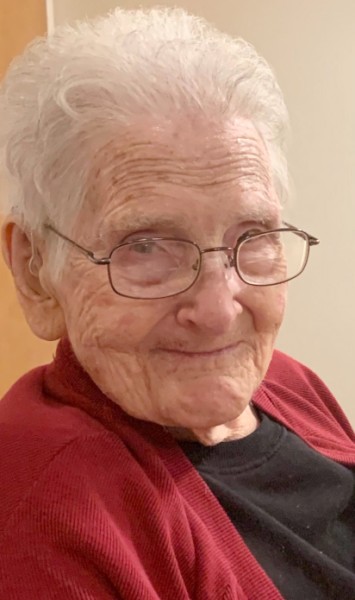 Roberta A. "Bert" Margeson – (101) – of 1295 Bearlick Hollow Road, Hornell (Town of Hartsville) passed away early Wednesday morning (August 11, 2021) at Elderwood Nursing Facility in Hornell where she had resided for the past 3 months.
Born in Hornell on January 19, 1920, she was the daughter of Ira & Elsie (Amidon) VanCampen.
Roberta grew up in Hornell and resided in the Hornell – Hartsville area for most of her life.  She had been employed as a Press Machine Operator at Loohn's Cleaners.  For many years, she, along with her husband, owned & operated the Margeson Dairy Farm on VanCampen Road in Hornell.
An avid reader, Roberta enjoyed working on crossword puzzles and playing cards with her grandchildren & great-grandchildren.
She was married for over 50 years to William J. Margeson who died in 1998.  She was also preceded in death by her daughter, Carol Margeson (died 1961); her twin sister, Ruth Mattice; and her daughter-in-law, Barbara Lee Margeson; her great-great-granddaughter, Hailey Reilly.
Surviving are her son, William I. Margeson of Hornell; 1 granddaughter, Stephanie (Raymond) France of Hartsville; 3 grandsons, William (Michelle) Margeson JR of Hornell, Kevin (Heidi) Margeson of Hartsville and Kelly (Kim) Margeson of Hornell; 7 great-grandchildren; 6 great-great-grandchildren; several nieces & nephews.
At Roberta's request there will be no calling hours.  A private graveside service will be held at Rural Cemetery at the convenience of the family.
Funeral arrangements are in care of the Dagon Funeral Home, 38 Church St., Hornell, NY.