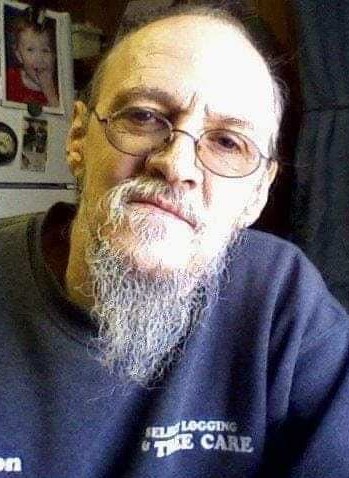 Thomas R. "Tom" Eason – 66 – of Montour Falls, formally of Greenwood, NY died Tuesday (November 16, 2021) at home in the arms of his beloved daughter.   A 46 year battle with diabetes, dialysis and dementia finally became too much for him.
Born in Long Branch, NJ on March 18, 1955, he was the son of Raymond Mardo and the former Marilyn Birchard.  He was the step-son of Roy "Blackie" McDaniel.
Tom grew up in the Jasper – Canisteo area and attended Canisteo High School.  He was a veteran of the US Army, serving his country from 1973-1974 (Vietnam era).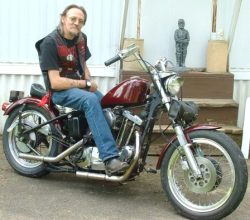 An avid motorcycle enthusiast, Tom enjoyed both riding and building motorcycles — especially Harley-Davidsons and Triumphs.  He was a proud member of the Vietnam Vets / Legacy Vets Motorcycle Club holding the title of Chapter Treasurer for many years.  Tom was an avid hunter (both small game and big game) and gun collector. He especially enjoyed collecting and shooting Black Powder Firearms used during the Mountain Man era following the Civil War.  He not only collected antique firearms, he re-loaded all of his ammunition.  He was proud of the fact that he hadn't purchased any ammo in many years.  He simply re-loaded his own ammo.
Tom was an accomplished photographer who thoroughly enjoyed taking "nature photos" of animals and other outdoor photos using his 35 mm camera.  He loved music and throughout the years enjoyed playing guitar and, in his younger years, played in several local bands.  He also enjoyed collecting vintage guitars.
He was married on July 22, 1991 to the former Carolyn Stevens who died December 11, 1999.  He was also preceded in death by his parents; along with 4 step-brothers, Danny, Lyle, Dick & Larry McDaniel.
Surviving are his son, Casey Eason of Oaks Bluff, MA; his daughter, Chelsea Eason of Montour Falls, NY; his sister, Ruth (Mike) Harrington of Elizabethtown, NC; half-brother, Everett (Kathy) McDaniel of Utica, NY; 4 step-brothers and 2 step sisters; 3 grandchildren, Jacqueline, Thomas & Lilly Mace; several nieces, nephews & cousins
At Tom's request there will be no calling hours.  Private services will be held at the convenience of the family.
Funeral arrangements are in care of the Dagon Funeral Home, 38 Church St., Hornell, NY