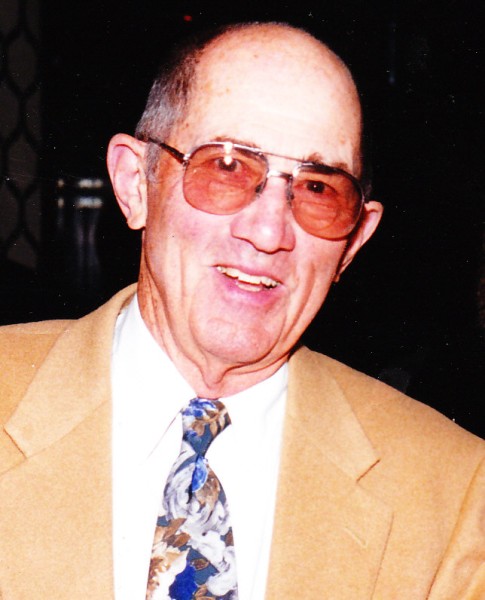 Thomas Paul "Tom" Taylor – 94 – of North Hornell, NY, formerly of Westfield, PA, passed away Wednesday  (December 1st, 2021) with his loving wife & partner of over 30 years, Eleanor, by his side.
Tom was born at home on June 3rd, 1927 in Pughtown, PA to the late Paul and Sadie (Elliott) Taylor.
He was a 1945 graduate of Spring City High School where he was a member of the football team.  Following high school graduation, Tom was accepted into the Maritime Academy in New York City.  After graduating from the academy he was hired as a third mate by the Isthmian Steamship Company and served aboard the S.S. Aram J. Pothier.
In 1950, after hearing news that North Korea had invaded South Korea, Tom signed up for the U.S. Navy and served as an officer on board the USS Montague.
Following his honorable discharge from the Navy, he, along with his parents, moved to Tioga County, PA and established Purple Brook family farm.  At this time Tom became a member of the Masonic Lodge and eventually rose to a 32nd degree level.
In 1965 he graduated from Mansfield State Teachers college with a teaching degree.  Tom served as a history and English teacher at Jasper Central School for 3 years before moving to Milwaukee, WI to pursue his Master's degree and PhD.
Following the death of his father in 1971, Tom moved back to Pennsylvania to take over the family farm which he ran until 1983. During this time he served as the President of the Pennsylvania Grange Mutual Insurance Company.
His hobbies included boating, dancing, flying, target shooting and "inventing".  Over the years he owned 2 planes, 10 boats, (5 of which he built himself), and held one U.S. patent.  He was most at home "tinkering" in the garage trying to modify or make things just a little better.
Retirement found Tom and Eleanor wintering in North Fort Myers, FL and traveling the country in a motorhome (sometimes trailing one of his many boats).  He also looked forward to his annual reunions with his mates from the USS Montague.
He is preceded in death by his parents, Paul and Sadie Taylor; 2 sisters, Mary (James) Thompson and Mildred (John) Wampler; and his brother, James Taylor.
He is survived by his wife Eleanor (Giglio) Taylor; his son, T. Quinton (Michelle) Taylor; his grandchildren, Catherine Taylor, Adam Taylor; stepchildren, Harold (Sue) Polmanteer, Michael Polmanteer, Christopher Polmanteer and Susan Cappadonia; step grandchildren, Julee Kilsdonk, Andrew Cappadonia and Anna Cappadonia; his sister-in-law, Ruth Taylor; along with several nieces and nephews.
The family of Thomas P. "Tom" Taylor will receive friends on Friday from 1:00 PM – 2:00 PM at the Dagon Funeral Home, 38 Church St., Hornell, NY.  A Memorial Service with Military Honors will be held at the conclusion of calling hours at 2:00 PM with Deacon Robert McCormick officiating.  Final interment will be in the Bath National Cemetery, Bath, NY.
Tom's family request that memorial contributions in his name be made to a charity of the donor's choice.
In recognition of Tom's service to his country as a member of the US Navy, the American Flag at the Dagon Funeral Home will be flown at half-staff.