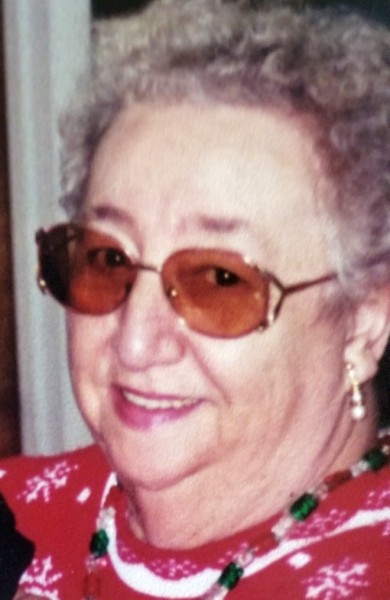 Joyce A Larson – 86 – passed away peacefully on Thursday (December 2, 2021) at the Wellsville nursing home.
The late James E Young and Erma L. (Smith) Young welcomed their bundle of joy on August 25, 1935.
Joyce was the elder of her siblings which consisted of 3 sisters, Paula, Donna and Marsha and 1 brother, David.  She was raised by her grandparents on an old family farm in Fillmore, NY until the age of 10.  At that time she moved to Castile, NY where she attended a one room school house.
Upon completion of school, Joyce worked for several area restaurants as a manager.  Her favorite was the Glenn Iris Inn at the Letchworth State Park.  She was able to establish a restaurant of her own which she owned & operated for several years.  She was the "Best Cook That Allegany County Would Ever See."
In 1974 Joyce married Curtis H. "Red" Larson who died in 2008.  She quit the industry and became a mother and housewife to her new family that consisted of Jim Young, Mark Larson, Larry Larson, Curtis Larson, Shannon Larson and Heidi (Beecher) Larson.
From this family of children, Joyce was blessed with several grandchildren: Jenny Yacuzzo (Randy Wilber) of Newark Valley, NY, Joshua Beecher of Corning NY, Shelby Beecher of Arkport NY, Kristina Bale (Ryan Bale) of Hornell, NY, Markus Larson (Tara Chapman) of Plattsburg NY.  She adored them all and made it her life's mission to watch them grow and participate in their lives.
She also boasted often about her great-grandchildren, Jessica Yacuzzo, Bobby Yacuzzo, Quentin, Bale, Elliot Bale, Miles Bale, Abigail Larson and Eddy Larson.  She was proud of each and every one.
She also leaves behind her best friend Colleen Morrison who provided extra special care for her in her final years.
In her later years, Joyce was involved in several local organizations which she held true to her heart. She was a part of the WNY Home Bureau where she served as Vice-President.  She was also a part of the organizations of the Hornell VFW, Hornell Moose Lodge, and the Red Hats Society.
Joyce was a very social woman who loved all her family and her many friends.  She was a huge advocate as a Christian and enjoyed spreading the Lord's message to others.  Everyone that came into her life was greeted with kindness and left with a heart full of joy.
As the matriarch of her family, Joyce kept everyone close and instilled the meaning in "family" to those left behind so that they may carry on those traditions.
She also enjoyed several outings and camping with her husband. The Larsons enjoyed a beautiful permanent sight at Lake Lodge in Alfred. They spent many summers there as a get-away.  Joyce and Curt enjoyed traveling around the countryside exploring different Indian cultures such as "Pow-Wows" and dances.  She also enjoyed making Indian costumes to wear at these events.
At Joyce's request there will be no calling hours.  Interment will be in the Bath National Cemetery, Bath, NY. A private "Celebration of Life" will be held at a later date.
Funeral arrangements are in care of the Dagon Funeral Home, 38 Church St., Hornell, NY.
Special gratitude to the Wellsville Manor nursing home Staff that took care of Joyce during our Covid pandemic.