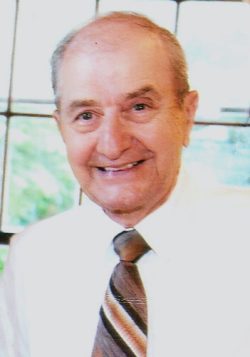 Robert L. "Bob" Fiacco – 89 – 416 Cleveland Ave, North Hornell (formerly of 47 Mill St., Hornell), died Thursday afternoon (February 3, 2022) at St. James Hospital following a long illness.
Born in Italy on May 17, 1932, he was the son of Stephen & Mary (Ponfilli) Fiacco. His family moved to the United States when he was 4 ½ years old.
Bob grew up in Hornell and was a graduate of St. Ann's School and Hornell High School (class of 1952).  While in high school, he excelled in sports, especially football, track, basketball & baseball. In 1992 he was elected to the Hornell High School Hall of Fame.
He was a veteran of the US Army having served during the Korean Conflict. In 1955, he, along with his parents and brother, established Fiacco's Bakery on River Street in Hornell. The family operated the business for about 25 years. He was also employed for many years as a machinist at the former SKF Industries in Hornell and later with Dresser Rand in Wellsville, retiring in 2001.
Bob was a member of Our Lady of the Valley Parish and for many years was a communicant of St. Ignatius Loyola Church where he served as an usher. In recent years he attended St. Ann's Church. He was an artist who enjoyed spending countless hours painting and was also a carpenter who could build just about anything.
He was married on October 9, 1954 to the former Carol McKinley who died April 21, 2020. He was also preceded in death by his twin sisters who died in infancy; his brother, Ezio Fiacco; his sister, Edda Tuite, and sister-in-law, SR Barbara Cabrini.
Surviving are his son, Mark (Liz) Fiacco of Atlanta, NY; 2 daughters, Susan (Dan) Nickerson of Scio, NY and Tara Regan of North Hornell, NY; 1 brother, Steve Fiacco of Brockton, MA; his sisters-in-law, Mary Fiacco of Hornell; Mary Lucy McKinley of Hornell; Helen (Richard) Harkenrider of Rexville; his brother-in-law, Leo Tuite of Brockton, MA; 6 grandchildren; 10 great-grandchildren; several nieces & nephews.
The family of Robert L. "Bob" Fiacco will receive friends on Friday from 4:00 PM – 6:00 PM at the Dagon Funeral Home, 38 Church St., Hornell, NY. A Mass of Christian Burial will be celebrated on Saturday at 11:00 AM at St. Ann's Church with burial in St. Mary's Cemetery.
Bob's family request that in lieu of flowers, memorial contributions in his name be made to St. Jude Children's Hospital, PO Box 1000 – Dept. 300, Memphis, TN 38148.  Memorial forms will be available at the Dagon Funeral Home.
In recognition of his service to his country as a member of the US Army, the American Flag at the Dagon Funeral Home will be flown at half-staff.