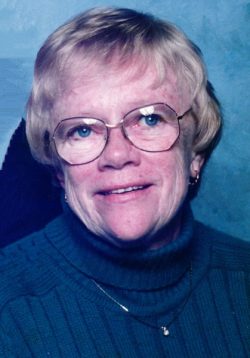 Virginia R. "Ginny" Appleton – (89) – of Arkport, died Friday evening (February 4, 2022) at St. James Hospital, following a long illness.
Born in Manitowoc, WI on March 4, 1932, she was the daughter of William & Mary Gertrude (Wesler) Runge.   In addition to her parents, she was preceded in death by her brother, William.
In 1954 she married George Appleton of Ionia, NY.
Ginny grew up in Manitowoc, WI and attended Lawrence University.  She later graduated from National-Lewis University in Evanston, IL with a BA Degree in education.
She resided in Honeoye Falls for many years and was a third grade teacher at Honeoye Falls Central School.  She later served as office manager at a dental practice in Honeoye Falls.  Ginny was a member of the Honeoye Falls Zoning Board of Appeals and later of the Planning Board.  She was also active in FISH, Meals-On-Wheels, Totiakton Garden Club and Literary Club.
George & Ginny moved to Prattsburgh where they lived until moving to Arkport in 2005.
While living in Prattsburgh, Ginny and George were members of St. Patrick's Church.  After moving to Arkport, they were members of St. Brendan's Parish of Almond, NY.
Ginny was an avid knitter and would knit sweaters for her young grandchildren and great-grandchildren every year. She also knit dozens of lap-robes and hundreds of booties for the VA.  She was a life-long follower and fan of the Chicago Cubs and of the Green Bay Packers.
In addition to her husband, George, Ginny is survived by her daughter, Mary Brownell of Canisteo; 4 grandchildren, Jessica (Anthony) Barnum of Pompy, NY, Sarah (Jon) Hager of Fayetteville, NY, Rebecca (Amir) Mirdamadi of Raleigh, NC and Kevin (Cheris) Mazanec of Hornell; 6 great-grandchildren, Timothy Barnum, Trevor Barnum, Ethan Barnum, Elizabeth Barnum, Emmit Hager and Anderson Hager; her sister-in-law, Barbara Runge of Shakopee, MN; her niece, Lisa (Mitch) Engelhart of Roswell, GA; along with numerous cousins.
The family of Virginia R. "Ginny" Appleton will receive friends on Monday (February 14, 2022) from 4:00 PM  – 7:00 PM at the Dagon Funeral Home, 38 Church St., Hornell, NY.  A Memorial Mass will be celebrated on Tuesday (February 15, 2022) at 11:00 AM at St. Brendan's Church in Almond.  Burial will be in St. Bridget's Cemetery in Bloomfield, NY at the convenience of the family.
Ginny's family request that in lieu of flowers, memorial contributions in her name be made to the Hornell YMCA or to the Hornell Public Library.