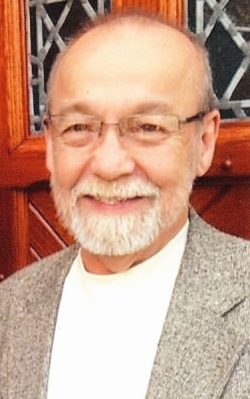 Thomas Edward Marshall passed away April 26th 2022. He lived in Cohocton New York and was the beloved partner of Thomas E. O'Grady for the past 39 years.
Tom was born in Sault Ste. Marie Michigan on December 19, 1950 to Clara and Eugene Marshall who have both preceded him in death. He was 4th out of nine children, all whom are still living except his brother Richard who preceded him in death.
After moving to Rogers City, he sailed on the Great Lakes freighters as 2nd cook. In the 80's he moved to Rochester New York where he worked as a baker untill he retired.
Tom's passion in life was music, mainly opera and classical.  He played piano and had a beautiful tenor voice that blessed everyone that heard him.  He loved his family, his cats, baking goodies, camping and in recent years gardening.
Tom is survived by his partner, Tom O'Grady and Tom's sister Maureen Winch; brothers David (Kathleen) Marshall of Texas, Gerald (Gail) Marshall of Costa Rica, Stephan (Pamela) Marshall of California; his sisters Dorothy (Martin) Burger of New Jersey, Mary (Mark) Corwin of New York/Florida, Teresa (Ralph) Kott of Michigan and Catherine Marshall of Michigan; 7 nieces, Debbie Burr, Laura Loukedis, Janet (Josh) Lenahan, Mrs Jennifer Gandolfo, Mrs Kimberly Sevic, Claire (Gary) Hlavka and Clara Rose Marshall; 8 nephews, Jeffery Marshall, James (Ellen) Marshall, Chris (Kathy) Burger, James (Alex)  Eustice-Corwin, Ian (Amy) Marshall, Rocky Marshall, Robert Marshall and Eugene Marshall; along with numerous great nieces and nephews.
There will be a memorial this summer when he is buried with his parents in Michigan.
Funeral arrangements are in care of the Dagon Funeral Home, 38 Church St., Hornell, NY.
Tom's family request that that in lieu of flowers, memorial contributions in his name be made to WXXI.org — https://www.wxxi.org/support or to The Food Bank of the Southern Tier — https://www.foodbankst.org