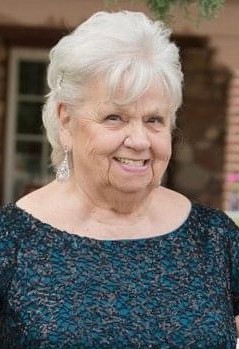 Dorothy A. Ermy, 86, of 1190 County Route 66, Hornell, died Tuesday, July 26th at Strong Memorial Hospital's ICU, Rochester, NY, following a brief illness.
Born in Hornell on December 31, 1935, she was the daughter of Frank & Edna (Norton) Secondo.
Dorothy grew up in Hornell and was a graduate of Hornell High School (class of 1954).  During high school she served as a waitress at the former Cards Drug Store and for 17 years she worked at the former Merrill Hosiery in Hornell.  For 25 years, Dorothy was employed as a baker at the Hornell High School, baking delicious treats for the students including her famous peanut butter cookies which are still fondly remembered by alumni.  She retired in 2002.
A faithful child of God, Dorothy was a member of Our Lady of the Valley Parish and a communicant of St. Ann's Church.  She had a deep love of St. Ann's Church and was an active member of the St. Ann's Adoration Chapel.  She was also a member of the Ladies of Columbus, Catholic Daughters of America, Carducci Lodge – Sons of Italy and the Hornell Association.
Dorothy loved spending time in the kitchen cooking and baking for family & friends.  She will fondly be remembered for her "mouthwatering" Chocolate Chip, Christmas, and Italian Cookies which she often created for weddings of family & friends.  A collection of her favorite recipes was gathered by her son Anthony, and he created a recipe book titled "Seventy Plus Years of Baking – With Love".
In her spare time, Dorothy enjoyed watching movies on television, especially those shown on the Lifetime Channel and the Hallmark Channel.  More recently she enjoyed "Metflix" (her pronunciation)!  She also loved spending time crocheting, creating beautiful afghans which she lovingly gave to her grandchildren, great-grandchildren and great-great-grandchildren.
Dorothy was married on May 1st, 1954, to Anthony S. "Butch" Ermy who died April 27, 2007.   She was also preceded in death by her brother, Karl Secondo, two sisters: Mary Ann Losecco and Janice Davis, and her daughter-in-law Cynthia Ermy.
Surviving is her son, Anthony Ermy of Crestview FL and two daughters, Judy (Tim) Ordway of Hornell and Maria Gallese-Delvecchio; her brother Frank Secondo of Mesa, AZ and two sisters, Joanne Porcaro of Hornell and Patty Lenhart of Mesa, AZ; ten grandchildren, Michelle (Leonard) Williams, Port St Lucie FL, Jennifer (Ronald) Harris, Mountain House CA, Michael Ermy, Crestview FL, Edward (Michele) Ordway, Highland Ranch CO, Daniel (Lindsay) Ermy, Crestview FL, Jennifer (Kevin) Pegg, Chesterfield MO; Ashley (Karl) Scaggs, Huntington MD; Karlene Gallese, Rochester NY; Gianna Gallese, Cleveland Ohio, Carmen Gallese, Rochester NY; eleven great-grandchildren; six great-great-grandchildren; many nieces & nephews.
The family of Dorothy A. Ermy will receive friends on Monday, August 1st from 4:00 PM – 8:00 PM at the Dagon Funeral Home, 38 Church St., Hornell, NY.   A Mass of Christian Burial will be celebrated on Tuesday, August 2nd at 10:00 AM at    St. Ann's Church with burial in St. Mary's Cemetery.
The Mass of Christian Burial for Dorothy Ermy will be streamed via YouTube and can be viewed on the Dagon Funeral Home Facebook page on Tuesday at 10:00 AM by visiting www.facebook.com/dagonfuneralhome.  The video will remain available for viewing on our Facebook page for 30 days.
Dorothy's family request that in lieu of flowers, memorial contributions in her name be made to St. Ann's Academy, 41 Genesee St., Hornell, NY 14843.  Memorial forms will be available at the Dagon Funeral Home.
To leave an online condolence or share a memory, visit www.dagonfuneralhome.com