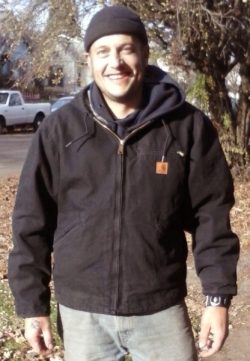 Jason Hale Freeman, 49, of 161 Maple St, Hornell died on August 7th, 2022.  Jason was born in Boston, MA on April 24, 1973.
He is survived by his mother, Carla Conrad Johnson; his stepfather, Jeffery Johnson; his sister, Johanna (David Kaplan) Freeman and his nieces, Sylvie Kaplan and Nadia Kaplan, all of Gainesville, FL; his aunt, Alexa Conrad (Maurice) Arce of Randolph, NJ; his stepbrothers, Kurt Johnson and Kyle Johnson of Rochester, NY; his stepsister, Keegan (Johnson) Manchester of Leominster, MA; and his paternal uncle, Jon Hale of Rochester, NY.  He was predeceased by his maternal uncle, Randall Conrad of Lexington, MA, and by his father, Lee Hale of Hornell, NY.
He was a 1991 graduate of Alfred-Almond Central School, where he excelled at downhill skiing and was an avid skateboarder and snowboarder. His wit, personality and mischievous sense of humor brought him many friends. After graduating from AACS, Jason completed one year of college at Rochester Institute of Technology but decided not to continue; he enlisted in the United States Air Force in support of Operation Desert Shield/Desert Storm. After completing Basic Training, in addition to the Air Force Training Ribbon and a National Defense Service Medal he was awarded a Small Arms Expert Marksmanship Ribbon. He was trained as a Security Specialist, and received an Honorable Discharge after completing his additional commitment to the Air Force Reserves.
Jason decided to return to school and enrolled at Alfred State College, earning an Associate's Degree in Building Construction with a concentration in Masonry. After graduation from ASC, he packed all his belongings into a van and moved to the trendy city of Portland, OR, where some of his Alfred friends had already relocated. In Portland Jason worked at several different companies, putting the knowledge he had acquired at ASC to good use and acquiring new skills from on-the-job experience. At Whitaker/Ellis Builders, he was a Form Builder and Concrete Finisher on commercial multi-story building projects. At Hammer and Hand he worked as a carpenter on the restoration and remodeling of historic homes. He tested and inspected fire sprinkler systems and their related components at Metro Safety and Fire. He studied hard to pass tests and gained professional credentials from the National Institute for Certification in Engineering Technologies (NICET) and the International Conference of Building Officials (ICBO). He also passed the qualifying exam for the Oregon Contractor's License.
After 16 years in the rainy Pacific Northwest, Jason moved to coastal Georgia in 2014 and was hired as Office Administrator at Southeast Nursery, a major wholesale plant nursery on St. Simons Island. Jason loved the nursery environment. He quickly became skilled at plant identification and scientific nomenclature, which was necessary for accurate management and care of plant inventory, correct order fulfillment and related bookkeeping. In 2020 he became Nursery Operations Manager.
Jason followed politics closely and was extremely knowledgeable about the candidates and issues, both statewide and nationally. He was an avid reader of nonfiction and fiction. His favorite character in literature was Sherlock Holmes and he enjoyed seeing how Holmes and his partner Watson were portrayed by different actors over the years on film. He enjoyed reading James Bond novels and followed those film adaptations as well. Jason loved motorcycles and trucks, doing most of the necessary repairs himself, and he deeply appreciated music of all kinds.
Jason's personal mission was rescuing dogs from shelters or other facilities, including private homes, that had been reported to animal welfare authorities for animal abuse. He adopted dogs of different breeds and sizes over the years and literally saved their lives with the best veterinary care and food, and most of all, with abundant love.
He was naturally artistic, working with wood, glass, metal, and other materials in his spare time. Several years ago, on a visit to Hornell Jason impulsively made several unique, unpainted birdhouses in his stepfather Jeff's wood shop. They are still placed above the family garden in Hornell, beautifully weathered now. More recently he taught himself to paint landscapes and abstract scenes in acrylics, which he found relaxing and rewarding. He loved offering his family their choice of paintings as gifts.
He loved to cook, and he enjoyed learning to make southern delicacies such as fresh collard greens cooked for hours with bacon. He often collaborated on meals with Shasta Fahs, his dear friend and companion since 2015, at her house in Brunswick. Whether it was a simple cookout on the grill or a full-fledged Christmas dinner for a crowd, Shasta and Jason were a good team, and they turned every gathering into a special occasion.
Jason was thrilled to become an uncle in 2013 and again in 2017, and drove to visit his nieces Sylvie and Nadia in Gainesville whenever he could, and he loved bringing presents for them. Jason was a loving son, stepson, brother, uncle, and stepbrother who genuinely cared about every member of his family.
At the family's request there will be no prior calling hours. A Celebration of Life for Jason Freeman is being planned for the Fall of 2022.
Funeral arrangements are in care of the Dagon Funeral Home, 38 Church St., Hornell, New York.
In lieu of flowers, memorial contributions in Jason's name may be made to the Hornell Humane Society, 7649 Industrial Park Road, Hornell, NY 14843.
To leave an online condolence or share a memory, visit www.dagonfuneralhome.com