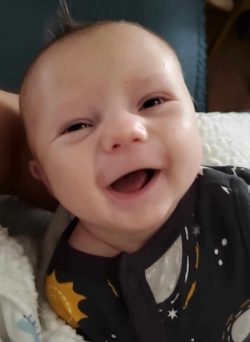 Sawyer E. Karns-McManus – 8 month old son of Nick & Nykole Karns-McManus was taken into the Loving Arms of Jesus in Heaven Thursday morning (September 1, 2022) surrounded by his family.
Born with a heart defect on December 31, 2021, Sawyer fought courageously with "Everything He Had" right up to the very end.  While on earth for only a brief time, he was deeply loved & cherished by his entire family and was an inspiration to everyone.
Although he is now an Angel in Heaven, Sawyer will never be forgotten and will always be loved by his mommy & daddy, Nick & Nykole; his sisters, Spencer Loporto, Gulianna McManus & Kinsley Karns; his paternal grandparents, Tim (Ann) McManus of Hornell and Mary Ann Didio of Cohocton; his maternal grandparents, Daniel Karns of Jamestown and Cindi (Jeff) Craig of Harbor Creek, PA; his paternal great-grandparents, Andy & Margie Didio of Hornell; his maternal great-grandparents, Keith (Darlene) Garfield of Scio; many aunts, uncles & cousins.
Daddy, please don't look so sad,
Mama please don't cry,
Cause I am in the arms of Jesus
and He sings me lullabies.
Please, try not to question God,
Don't think he is unkind.
Don't think He sent me to you,
and then He changed his mind.
You see, I am a special child,
and I'm needed up above.
I'm the special gift you gave Him;
the product of your love.
I'll always be there with you
and watch the sky at night.
Find the brightest star that's gleaming,
That's my halo's brilliant light.
You'll see me in the morning frost
that mists your window pane.
That's me in the summer showers;
I'll be dancing in the rain.
When you feel a little breeze
from a gentle wind that blows,
That's me, I'll be there
planting a kiss upon your nose.
When you see a child playing
and your heart feels a little tug,
That's me, I'll be there,
giving your heart a hug.
So Daddy, please don't look so sad,
Mama please don't cry.
I'm in the arms of Jesus
and He sings me lullabies.
                                            Author~Claudette T. Allen
The family of Sawyer E. Karns-McManus will receive friends on Saturday, September 17, 2002 from 4:00 PM  – 6:00 PM at the Dagon Funeral Home, 38 Church St, Hornell, NY.  Private services will be held at the convenience of the family.
Sawyer's family request that in lieu of flowers, memorial contributions in his name be made to St. Jude Children's Hospital, 501 St. Jude Place, Memphis, TN  38105.  Memorial forms will be available at the Dagon Funeral Home.
To leave an online condolence or share a memory, visit www.dagonfuneralhome.com