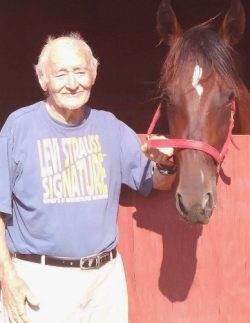 Hornell, New York
James E. "Jim" Davis – 86 – of 110 Elizabeth St., Hornell, died Wednesday morning (December 21, 2022) at the Buffalo Center for Nursing & Rehabilitation in Buffalo, following a long illness.
Born in Cumberland County, NC on November 5, 1936, he was the son of French & Nannie (Williams) Davis.
Jim was employed for many years by Coleman Brothers Carnival where he traveled the country setting up tents and rides and also operating several rides.
He was preceded in death by his wife, Thelma (Cole) Davis who died in 2015.
Surviving are his step-daughter, Mazie Ridley; granddaughter, Katie Ridley of Wellsville; along with several other relatives.
There will be no calling hours.  Private services will be held at the convenience of the family.
Funeral arrangements are in care of the Dagon Funeral Home, 38 Church St., Hornell, NY.
Jim's family request that in lieu of flowers, memorial contributions in his name be made to a charity of the donor's choice.
To leave an online condolence or share a memory, visit www.dagonfuneralhome.com