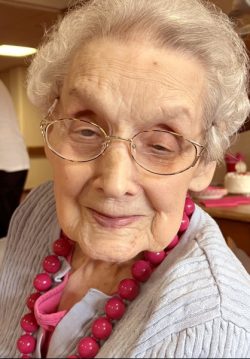 Hornell, New York
Marie L. Prior, 98, formerly of 21 William Street, Hornell, passed away peacefully on December 22, 2022 at Elderwood Nursing Facility where she resided for the past 7 years.  She was surrounded by her loving family.
Born in Painesville, OH on June 10, 1924, she was a daughter of the late Paul and Rose Vedo.  On November 20, 1943 she was married to Grover J. Prior, who predeceased her on August 17, 1978 after 35 years of marriage.  She was also preceded in death by her daughter, Roseanna Thompson and her brother, Paul Vedo.
Marie resided in Hornell for most of her life and attended Hornell High School.  Following high school, she worked at the former Huguets Industries.  Along with her husband, she owned and operated Stubby's Tavern in Hornell from 1969 until 1978.  For several years, Marie was employed as a cook in the dining hall of Alfred State College.  She later worked at St. Ann's Parish until she was well into her 80s.   She enjoyed the day to day operations that she helped with at the parish rectory, and she retired in 2012 after many years of loyal service.
Marie was a member of Our Lady of the Valley Parish and a communicant of St. Ann's Church where she attended Daily Mass for most of her adult life.  She was an active patron of the St. Ann's Adoration Chapel and a member of the St. Ann's Altar and Rosary Society.
Marie was an avid lover of country music and even attended a concert with her granddaughter when she was in her 80s.  She also enjoyed cooking, cake decorating and spending time with her family and friends.
Marie is lovingly survived by 3 sons, James (Helen) Prior of Hornell, Thomas Prior of Arkport and Michael Prior of Rochester; 9 grandchildren; 14 great-grandchildren; several nieces and nephews.
The family of Marie L. Prior will receive friends on Wednesday, December 28, 2022 from 11:00 AM until 1:00 PM at the Dagon Funeral Home, 38 Church Street, Hornell, NY.  A Funeral Service will be held at the conclusion of calling hours at 1:00 PM with Deacon Robert McCormick officiating.  Burial will be in St. Ann's Cemetery.
Marie's family requests that in lieu of flowers, memorial contributions in her name be made to Elderwood Nursing Facility, 1 Bethesda Drive, Hornell, NY 14843.  Memorial forms will be available at the Dagon Funeral Home.
"As the deer pants for streams of water, so my soul pants for you, my God" (Psalm 42:1).