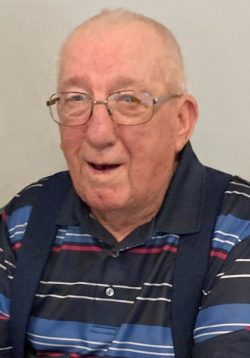 Hornell, New York
Harold M. "Skip" Wood, Jr. – (80) of 24 Marick Park Drive, North Hornell, died Tuesday afternoon (January 3, 2023) at St. James Hospital following a long illness.
A native & life resident of Hornell, he was born December 9, 1942, and was the son of Harold & Jeanette (Severson) Wood, Sr.
Skip was a graduate of Hornell High School (class of 1960) and later graduated from Alfred State College where he majored in Data Processing.  He later earned his Bachelor's of Science Degree from Alfred University.
He was a veteran of the United States Air Force, serving from 1961-1964.  He was stationed in England for 3 ½ years.
Skip was employed for 31 years as a Technical Specialist at SUNY Alfred, teaching computer programming.  He retired in 1997.  Throughout the years he was also a self employed contractor in the Hornell area.
He was a member of the United Presbyterian Church and a member of the Hornell American Legion.  Skip enjoyed hunting and, in his younger years, loved playing golf.  In recent years, he loved attending his grandchildren's sporting events
In addition to his parents, Skip was preceded in death by his brother, Jeff Wood; his sister, Margaret "Peg" Phillips.
He was married on August 27, 1966 to the former Kathy Buono who survives.  Also surviving are his son, Harold "Scott" (Susan) Wood, III of North Hornell; 1 sister, Jeanne Wood of Montour Falls; 3 grandchildren, Logan (Jocelyn) Wood, Jordan (Kate) Wood and Lindsay Farris; his brother-in-law, Jack Phillips; 6 great-grandchildren; several nieces & nephews.
The family of Harold M. "Skip" Wood, Jr. will receive friends on Saturday from 2:00 PM – 4:00 PM at the Dagon Funeral Home, 38 Church St., Hornell, NY.  Funeral services with military honors will be held on at the conclusion of calling hours at 4:00 PM with Rev. Craig Brittingham officiating.  Burial will be in the Bath National Cemetery.
Skip's family request that memorial contributions in his name be made to the National Juvenile Diabetes Association, 26 Broadway (14th Floor), New York, NY 10004.  Memorial forms will be available at the Dagon Funeral Home.
The American Flag will be flown at Half-Staff at the Dagon Funeral Home in recognition of Skip's service to his country while serving in the US Air Force.