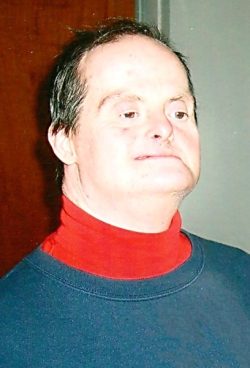 Hornell, NY / Arkport, NY
Edward J. "Eddie" Beckerman – 68 – a resident of Perry Ira (Individual Residential Alternative) Group Home in Perry, NY died Sunday evening (April 9, 2023) following a long illness.
Born in Hornell on April 21, 1954, he was the son of Kenneth & Eleanor (Nugent) Beckerman.
Eddie lived in the Hornell – Arkport area until 2004 when he moved to Springwater Ira Group Home in Springwater, NY and has resided in Perry for the past 1½ years. 
An avid John Wayne fan, Eddie loved watching John Wayne movies and owned a collection of John Wayne DVDs.  He enjoyed having good meals, especially chicken, mashed potatoes and ice cream.  He loved simply being around people and relaxing in his recliner.
Eddie had an amazing knack for remembering the names of people, even if he hadn't seen them in many years.  He also loved the time spent going for rides in the car with his brothers.
In addition to his parents, Eddie was preceded in death by his brother, Kenneth "Ken" Beckerman; his sister Sandra "Sandy" Marcello; his sister-in-law, Kathy Beckerman; his nieces, Jacqueline "Jackie" Beckerman & Mary Jo Beckerman; and his longtime caregiver, Ella O'Dell.
Surviving are 3 brothers, Joseph "Joe" Beckerman of Hornell, John (Jennifer) Beckerman of South Lyon, MI and Robert "Bob" (David Chapman) Beckerman of Rochester; his brother-in-law, Tony Marcello of Churchville, NY; several nieces & nephews.
There will be no calling hours.  Private services will be held at the convenience of the family with burial in St. Ann's Cemetery, Hornell, NY.
Funeral arrangements are in care of the Dagon Funeral Home, 38 Church St., Hornell, NY.
Eddie's family request that in lieu of flowers, memorial contributions in his name be made to Perry Ira Activities Fund, 344 South Main St., Perry, NY  14530.
To leave an online condolence or share a memory, visit www.dagonfuneralhome.com.